As I have said time and time again, there is something in the water in Miami. Currently most of my favourite producers are based in Miami with their music is taking over on a global scale, it's hard to come by a mix these days that doesn't include a Miami artist but as you will read in this interview, the music might be travelling far and wide, but it has yet to translate into international bookings – hopefully this will all change soon.
I first discovered production and DJ duo INVT a few years ago. It's hard not to get hooked into their vibrant world. A multidisciplinary project run by best friends Luca Medici and Delbert Perez, INVT not only exists within the world of music but it includes a fashion brand and comes from their shared love of skateboarding as well. Their music is distinctive yet forms many shapes, traversing across genres such as UKG, dubstep, techno, and tech house whilst honouring their Latin roots. You could be walking past a festival stage or listening to a mix in the background and your ears will prick up, noticing that one of their tracks are coming into the mix. Their output is crazy too. They have been known to put out around 10 releases in one year, a mixture of EPs and albums, and each one outstanding in their own right. There's not many other producers that you can reference to that have that kind of consistent output. And this is just referring to their music. Every season, INVT will drop a new clothing collection which is designed and made by themselves. The sustainable line features repurposed vintage clothing with their signature flair added to it whether that's through screen-printing, acid wash, cut and sew or embroidery. Their constant creativity is inspiring.
This might be made easier due to the community they surround themselves with, as their peers in the city always support each other through encouragement and shares to check out what each other have been working on. It's refreshing to see in a competitive industry where it often feels like there's only room for a few to succeed whilst in Miami there's room for all. The guys cite local legend Danny Daze as their number one mentor and earlier this year, they were championed by one of the UK's dubstep pioneer's, Skream, who invited them to join him at his Skreamizm residency at the newly relaunched KOKO where they also went back-to-back and included the likes of Riz La Teef, Platician, Eliza Rose, and Yung Singh among others on the lineup.
Now on their second European tour of the year, which includes dates in Barcelona, Manchester, Lisbon, Dublin, London and Berlin (where I had the opportunity to see them absolutely kill it in Panorama Bar), we catch up with INVT to learn about how the project began, their friendship, how skateboarding helped inform their determination and discipline and the role of mentors.
You're both based in Miami but with Latin roots, how has that shaped you both personally and artistically? 
Miami has an extremely unique environment and a diverse ecosystem of latin culture. People that grow up there experience Latin music, food, and the language. Being latinos in Miami felt comfortable because mostly everyone speaks spanish. I feel that we are naturally expressing our heritage and latin influences within our lifestyles/art because the foundation of INVT is a reflection of our experience growing up here . 
When you were growing up was there a lot of music being played around the house? If so, what sort of stuff were you listening to?
We were constantly exposed to Salsa, Merengue, Reggaeton, Bachata, Etc. At the same time the Hiphop, DJ, and Radio culture (shout out Power 96) that was coming out of Miami, and South Florida in general was always so inspiring.
What else were you introduced to when you were growing up that was formative to who you both are as artists today? Who introduced you to it? 
Real friendship! We grew up with a specific group of people that shaped our taste and style towards life. From skateboarding to going to our first raves, the experiences with our homies was undeniably a major factor in establishing the foundation for our project today. Shout out to Panda, Andres, Camilo, Ivan, Ethan, and Ilan 
What were your early experiences like with electronic music and raves? 
We discovered dubstep via Skrillex when we were 13 and got super curious about this new type of music we had never heard before. From there we did our homework and discovered Skream, Caspa, Rusko, Coki, Benga etc. Simultaneously we were also diving into a lot of Flying Lotus, Deadmau5, Bonobo etc. 
As for our early rave experiences, Miami is a super party town so I would say we both started partying very young, maybe even too young haha. We would sneak into events like Skrillex in 2011, we are 24 now so we were 13 at the time. I even took Delbert to see Amon Tobin for his 15th birthday against his own will, but he loved it and was super inspired. 
Some of our first electronic festivals that we went to were III Points and Okeechobee Fest. We started making very club oriented tracks after diving into DJ Rashad and RP Boo, shout out to Zeli for putting us on!!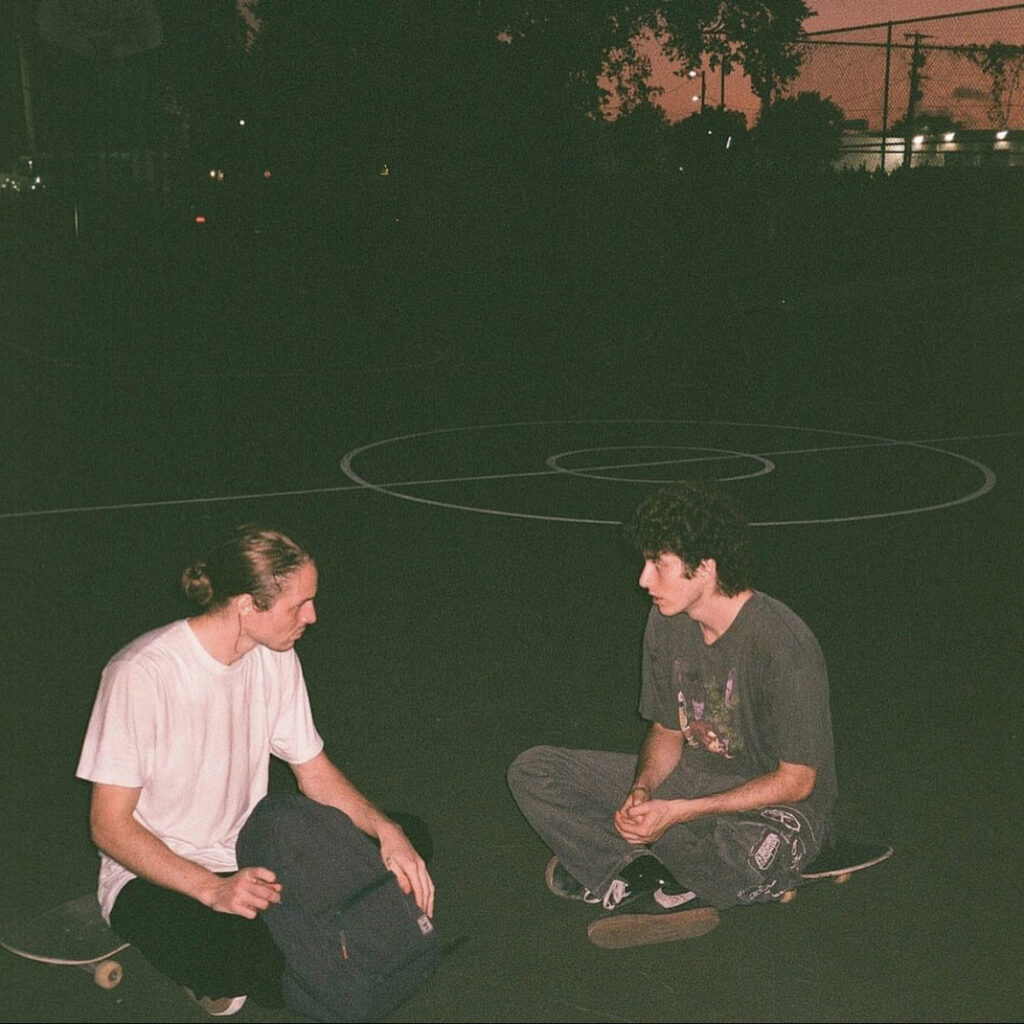 You both met whilst skateboarding in Miami and there's obviously a long history between skateboarding and music but how has skateboarding influenced what you do creatively? 
I would say Skateboarding as well as being around Graffiti writers has taught us a lot about discipline, developing our own style, and becoming unavoidable. 
Growing up skateboarding we would go to a spot and stay there all day. Some days we would really want to land a trick and would attempt and fail nearly 100 times before finally landing it once. Every skater knows how good it feels to land the trick after battling it out for hours. 
We apply that to our careers in music. That mentality of not giving up, trying over and over and over again just to succeed once.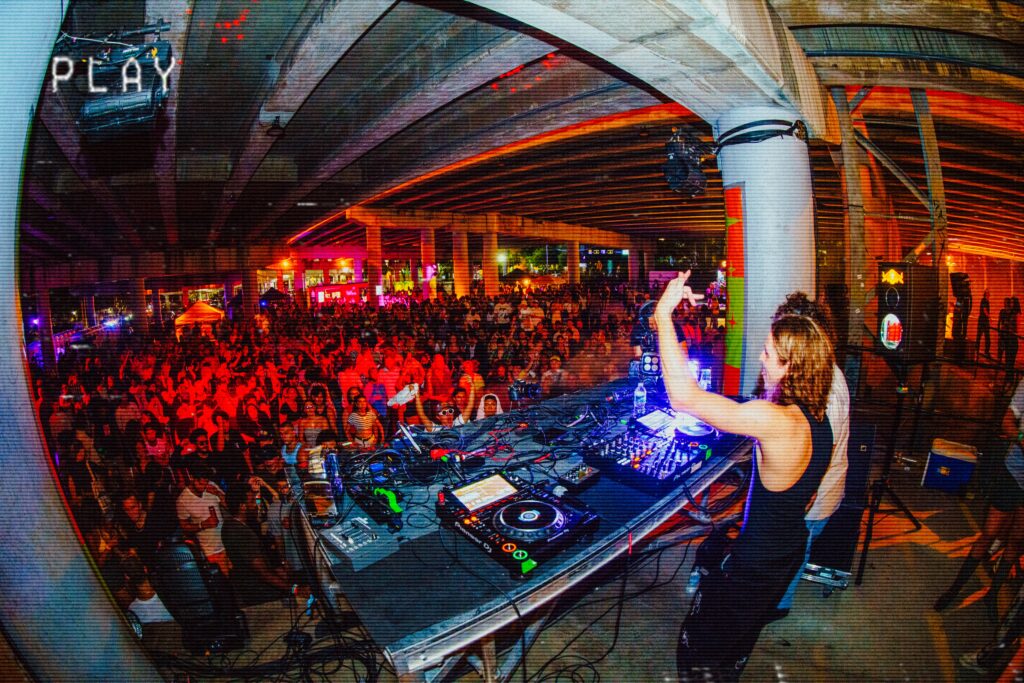 In every feature I've read with you there's a reference to the crazy amount of tracks you produce whether that's together or separately. How do you stay on track and keep in a creative flow? What helps you overcome any creative roadblocks? 
Staying creative and inspired is something we are very good at. It's our super power I guess. We are both very curious people. Always discovering new stuff and trying to see if we can bring the things we like from that into our own creations. We're like scientists in a lab. 
You've been referenced in an interview with Nick León as guys who are able absorb a lot of musical knowledge and use it to feed into your productions – where does this drive/hunger to keep on learning and trying new things come from? You never really stick to one sound/style but you can always tell when a track is yours (it happened a lot whilst IDing tracks at Dekmantel recently) and I think that's one of the most exciting things about you. 
That's dope! I would love to see that interview send it over when you can 🙂 
Our style has been developing for over 10 years, and we are super happy to have developed our own "signature" that people can recognize. That's been a goal of ours for a long time. 
We are very determined, getting to where we are now was once a dream, but we've made it a reality by working really hard. We've always wanted to create our own style and it took releasing over 200 tracks to get there. Those 200+ tracks are only less than 5% of the music we've made over the years. We have thousands of project files. 
How much of what you do is informed by your environment/relationships versus research? 
About 50/50. We definitely absorb a lot of the good that is around us, but also there's a lot of bad that we don't care to absorb thus we end up being kids of the internet age. We spend hours upon hours digging and showing each other music. It's a lot of fun. We like to put each other on to new sounds and see what reaction the other one has.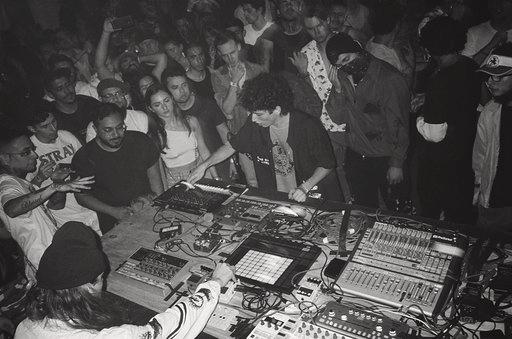 When you are pulling together an album, of which you have released two already this year, how do you curate these? Do you have a concept in mind before you go into the studio or is it something that comes together after the tracks are made? 
We make music nearly everyday, so we're always exercising that creative muscle. 
Then we come up with a concept like "yo let's make a record that references Dubstep, Garage, Dembow, and Techno." 
Then we say alright we got these 7 tracks already made. We want to do a 10 track album. Let's finalize those 7 and make 3 new ones. 
Then 2-3 weeks later the record is finished. 
We like to release on our own schedule. One thing we don't like about working with labels is the "release schedule" so we actually ditched this concept and just release music whenever we want. 
It's exciting because our listeners can expect a new album at any moment and for us it keeps us happy with our releases since the ideas are recent and feel new to us, not just to the listener. Our musical interests are always evolving, but our music is always centered around something we would want to hear on dance floors. 
You also design clothes – where and when did this idea come about? What influences each collection, especially your most recent run? 
It all happened naturally. We were both living in NYC at the time studying music production. Luca has always been a visual artists and started making clothing in high school but started making even more in NYC for the both of us cause we wanted to look fly. The clothing was so unique that people would stop us on the street constantly to ask where they could purchase the pieces. 
A couple years later we moved back down to Miami to pursue INVT full time. We knew that people would buy our clothing so we decided to launch a website where we would drop collections of 1/1 pieces. Every piece was made in house by us whether it was hand screen printed, embroidered, acid washed, or cut and sewn. Each sale from the fashion brand allowed us to sustain ourselves so we could be in the studio making albums.
The core influence of every collection has always revolved around things we enjoy and would want to wear ourselves. The visuals that we share between our album art and clothing is all tied into us reflecting our experience growing up in Miami.  
How do you feed yourself creatively when you're not working on new music or clothing designs? 
We like to go out and listen to djs and live acts, hit the beach, skateboard, travel, eat at new restaurants, or be with our family. 
You've been championed by Skream quite a lot over the last year, is there anyone else you look up to as mentors or inspiration that you've been working with? How has this helped you? 
Connecting with Skream has been a dream come true. We've been listening to his music since we were 12 years old. 
I would say our 1 true mentor we've had is Danny Daze. He's been so important to us since the day we met. Pre-pandemic he would always be on tour and I kid you not the first time he ever invited us to his studio he said "here's my keys you guys can come here whenever you want since I'm usually away touring." We would go there literally everyday. His studio is a dream, We've still never been to a better studio for producing electronic music. The equipment he has is so refined and the environment in there is perfect for tapping in and getting creative. It's like a spaceship with a rain forest in it. 
The studio was just one factor from the influence. He was always dropping knowledge about his experiences, the science towards playing extended sets, and how to play in any setting. Danny also was very open to our ideas and we have many great conversations about the whole spectrum while sharing a passion to continue Miami's growth. 
Do you think having a mentor is important? 
For a long time we wished we had a mentor because we literally didn't have a single connection in the music industry and it's really tough to navigate if you have nobody to ask questions. In short, having a mentor is awesome, but not having a mentor can be awesome too, because it pushes you to learn and develop on your own. When we first met Danny we were already very developed sonically. I think having a mentor too early can really adulterate an artist's sound. We've noticed a lot of instrumentalists that sound and play just like their teacher. Same thing can happen with producers. 
Of course we've been influenced by Danny specifically by his master level DJing. However if you see us play and you see Danny play it's 2 very different experiences. Sure we might use some of his techniques and we constantly reference his arc building and holding the crowd, DJ theories, but we play different music.
You went on your first European tour earlier this year and about to embark on another one over the next month. What was your experience like during the first tour? What were your highlights? 
First off I wanna say that it was a dream come true and a long time coming to do this Tour. The experience came with a lot of growth and hidden challenges. In addition to making this tour happen independently, we were able to play alongside artists we respect within very high caliber environments. One of the biggest highlights was being able to represent Miami on a global scale. Obviously going b2b with Skream and then Plastician, Riz La Teef, and DJ Q at the end was a historic moment for us. 
Getting to open for Nicola Cruz was sick as well! The audience was so receptive of our sound. Big shout to Nicola, he's become a great friend of ours.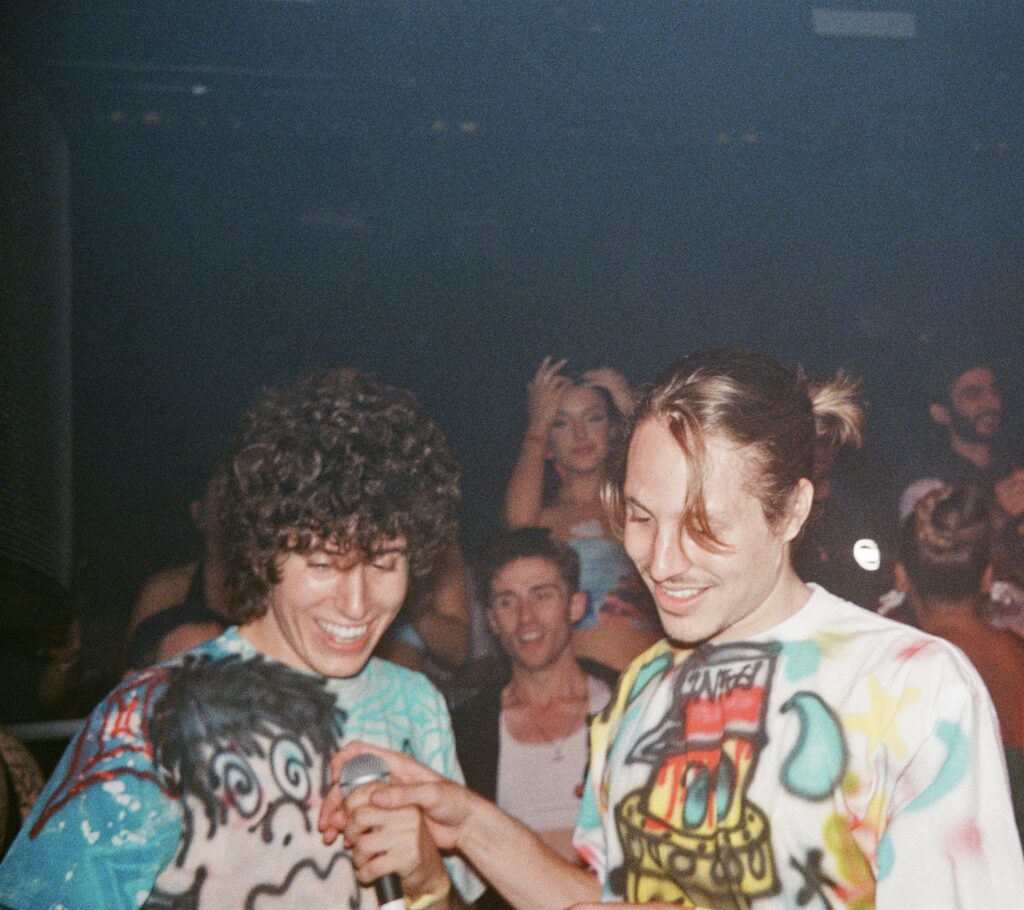 What do you think about Europe's reception to the music that's coming out of Miami at the moment? 
We think it's great! But we would want to see more than just Miami Music getting played by DJs in Europe. We are one of the few artist in the scene that are getting to play over there, but there's a lot more artists that deserve to get those experiences as well. We eventually want to curate "Miami Nights" where we curate a lineup of Miami artists and invite them to play outside of Miami. 
What makes the scene in Miami so special?
In Miami the artists support each other. We go to see one another play and we share everyone's art/events on social media. Also, we all love being from Miami. There's a lot of pride in where we come from. The city holds a special place in our hearts and makes us come together to build a comradery. It's a beautiful and inspiring place. We have limited resources and for a long time most of the clubs catered to the tourists that come to party and don't care about fresh underground music. That has created a counterculture, where the artists and new promoters have a deep desire to educate the locals and build a scene for new sounds. 
Miami is in a new chapter. The artists are making the noise and putting the city on the map, while some new promoters are creating a reason for those artists and music lovers to come out to the events. It's the most Latin American city in the US. Everyone speaks Spanish like it's the main language. The city embraces our heritage. You can go to the beach and hear salsa, bachata, reggaeton being blasted and at night you can go to a perreo or a rave. 
Gonna sign off by giving a huge shout out to Coffintexts, Jonny from Space, Danny Daze, Nick León, Sel. 6, Sister System, Bitter Babe, Bunni, IIIPoints, Nicholas G. Padilla, Tidur., Gami, Jezebel, and the rest of the Miami Crew. 
'MÁXIMA VELOCIDAD' by INVT is out now – buy here and you can find their latest clothing collection here.
You can catch INVT at NTs Loft, London on the 24th September – full list of upcoming tour dates here.