'Nothing but pleasure' is how x3butterfly describes their approach to our 150th mix – a fun, bubbly session filled with shimmering house and UKG cuts.
Based in NYC, x3butterfly has lived a pretty nomadic lifestyle, moving between Detroit, California, Europe and NYC. Before the x3butterfly we see today, the project has had many iterations – cocooning and shapeshifting in different forms inspired by their teachings at Calarts, the industrial sounds of Throbbing Gristle and Coil, drag shows and club nights in Berlin, and the sounds of the UK and Detroit. Whilst in Berlin, x3butterfly explored live performance art, bringing their spoken word and dance practice to the club space and due to their performance on HÖR a few years ago, they have since broken through as a DJ with standout gigs in Mexico, Germany, Denmark, Greece, as well as a multitude of cities in the US. Now a rising star within NYC's club fixture where they say their 'career has never been better', x3butterfly recently performed for Boiler Room, played at events with the likes of Kaytranada, VTSS, AceMo and has released a gender fluid collaboration with Official Rebrand.
We get the lowdown on x3butterfly below covering the beginning of their relationship with music, playing the first queer party in Guanajuato, transitioning from performance art to DJing and their approach to club sets and mixes.
Starting from the beginning, how did your relationship with music begin? 
My relationship with music began as far back as I remember, starting with my late grandfather. He would almost exclusively listen to jazz; Dave Brubeck and Miles Davis being the most prominent, which would always be playing in the car via his CD collection. When I was two, I began taking ballet classes, which was an obvious integration with music. Most of what I knew stemmed from dance or the radio, I was never really taught much by my family. It was just sort of omnipresent, I never thought consciously about what music meant to me or why I liked it, it was just experienced very viscerally. It wasn't until I was an adult that I became invested in music history, which is where my intimate relationship with music was cultivated. It subverted the concept of just "being" for me, and evolved into something extremely layered and multitudinous. When I was at the most arduous peak of mental instability, music was the only thing I could really turn to for solace. That was the beginning of everything changing.
You grew up in Detroit and moved back to NYC just over a year ago, what motivated the move back to the city? 
There is actually a pretty cliché inspirational quote that I've seen at a yoga studio I attend: "I don't chase, I attract. What belongs to me will simply find me."
I'm mentioning this not only because I can be extremely tacky at times (just ask my partner, she could vouch for that sentiment) but also because it does really resonate.. Sort of every large decision I've made in my life wasn't as much of choice as it was a necessity. Due to various circumstances at one point or another, I was lead to intuitively approach the next best option. I did grow up in Detroit, however, I moved to California to attend boarding school for performing arts when I was 13. I moved to Europe in 2016, and decided to move back to the states because of how much the pandemic compromised my living and financial situation. I moved without having friends abroad, a visa, or any structural plan at the age of 22, and I had a good, six-year long run. Being able to work without all of the bureaucratic formalities was something I had taken for granted before. It seems like moving to back to the states, specifically NY, was the best option for me though. My career has never been better.
You also spent some time in Berlin where you transitioned from performance art to DJing – what inspired this change of artistic expression? 
Back-peddling off of the former question, I sort of did it out of necessity. I started producing music in 2015 via my teachings at Calarts, which I attended for two years. I was heavily inspired by the dark, industrial and experimental sounds of Throbbing Gristle and Coil, as well as the early electronic dance sounds stemming from Kraftwerk, as well as the techno and house originating in Detroit and Chicago. I would produce on Ableton and turn written lyrics into spoken word that I would perform live, sometimes with my drum machine. I actually really wanted to pursue performance art in Berlin but it just didn't seem like there was much opportunity for it there. I was attending drag shows or club nights in my formative years of Berlin, which would later inform my own practice. I unfortunately spent a lot of time in my room or in bed in 2017. My mental health was so crippling that I had minimal physical energy, especially not to execute my dance practice. Craving artistic expression without much mobility, I began DJing by simply playing around on equipment that my partner at the time owned.  By the time the pandemic began, I was invited to perform on Hör. This really amplified my sound and solidified the concept of x3butterfly.
Do you feel like you are influenced by the environment you are in? If so, what do you think has inspired you the most artistically from each city? 
Yes and no. Most of what artistically inspires me feels very ephemeral. Paralleling the transience of my own life, my artistic inspiration transcends permanence. A lot of what inspires me is observation based, typically in incredibly fleeting moments. That has less to do with a specific environment or location, and more to do with serendipitous experience.
You've had some really amazing gigs, all across the world, including the first queer party in Guanajuato, what was that experience like? 
Historic. It feels amazing to be a part of such an incredible community of creatives, even though we're still collectively healing from a life-altering event that has left most of us, if not all of us, traumatized. It's inexplicably special to have so many close ties to people that recognize the significance of liberation through nightlife. A lot of labels, collectives, and venues fought hard to stay alive during the pandemic, and I wouldn't be where I am with my career now if that wasn't the case. My only goal is to create a safe space for anyone to forget about the hardships of day to day life, even if it's just for an hour.
You've recently collaborated with Official Rebrand for a gender-fluid collection, how did the collaboration come about? 
MI and I have been internet friends for a while, and had eventually met IRL out and about. We had been in contact more frequently after meeting IRL, and were both enthused over potentially collaborating on a fashion/music project oriented around their brand, Official Rebrand. I resonated with the ethos of their brand, so I was happy to partake in the collaborative series they had already started. I can be incredibly stubborn with the execution of my own projects, so working with other people sort of allocates space to take the direction of a project in one you may have not normally gone with yourself, which can sometimes be the most fortuitously beautiful.
How does fashion fit into your artistic journey? Do you find that fashion informs your music and vis versa? 
Fashion for me is so so important. It doesn't necessarily inform my music, but it does inform my "brand". Everything that being x3butterfly encompasses is an intersection of fashion, music, art, and dance. I try to convey something playful and fluid with my style- I typically choose my outfit very thoughtfully. As a genderqueer person, my self-perception as well as comfort level heavily fluctuates, so I try to style myself in something that I'll feel the most comfortable and confident in. It's not always easy, but piecing together the right things helps alleviate anxiety.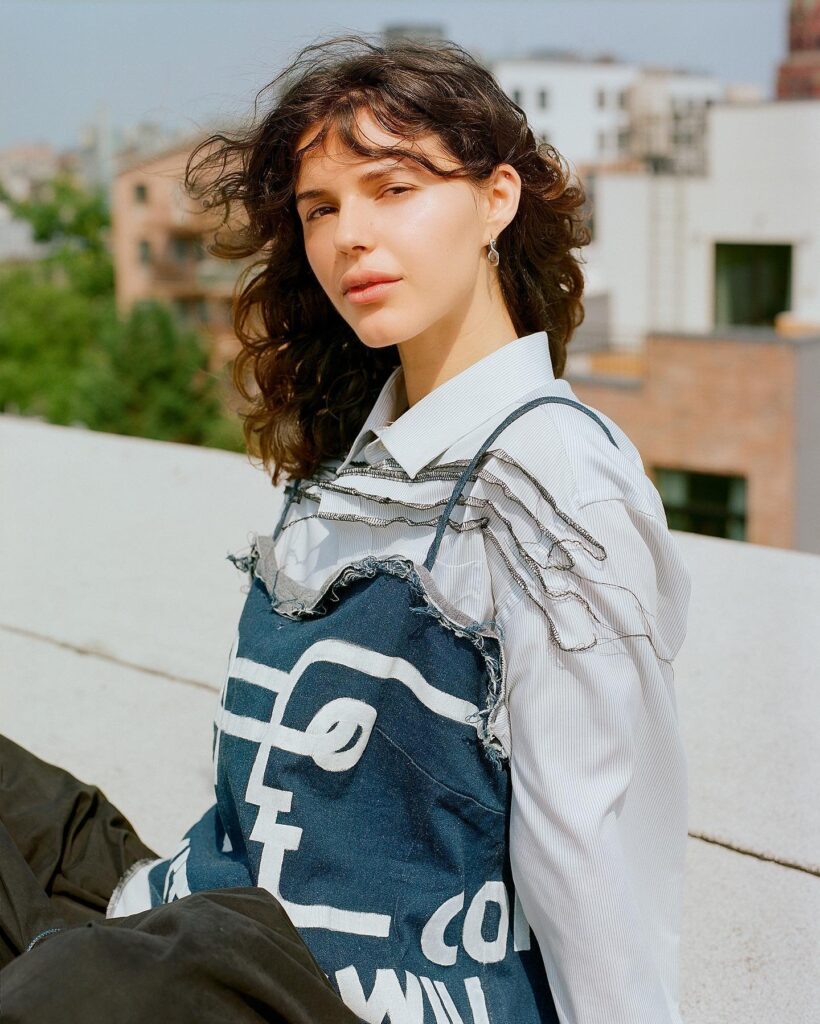 You've also done a mix for us, what was your approach to this mix? 
Nothing but pleasure. I typically track-dig in preparation for a mix, which consists of me spending hours on Bandcamp, Soundcloud, or Youtube to find them. After digging, I'll play around on CDJ's and just try to have fun blending to see what works together and what doesn't. Creating mixes can be stressful due to my intensely self-critical nature, but ultimately I just want it to convey my personal style and have fun in the moment of creation. Mixes shouldn't feel like a chore but they often can hehe.
Do you have a different approach to mixes you do for platforms and like the ones you did for Official Rebrand to your club DJ sets? What is your usual process like preparing for a club set? 
Mixes that are released on labels don't have as much pressure because there is more leniency for eccentricity. While preparing for club sets, I ideally would like to have a track list that will sustain a high-energy environment. I don't mind creating mixes that consist of club music, but I wouldn't attempt to play much ambient or experimental while playing a live set (unless it was intended to be an ambient night or something else circumstantially relevant). I don't necessarily have a different approach for other mixes I create, but they can vary based on my mood, tracks I've recently found, or the overall energy of the label asking for the mix. Being given full artistic freedom however is something I'm very grateful for, which I'm granted most of the time.
What are your top priorities for 2023? What would you like to learn this year? 
My only priorities are to continue to love myself, and be a better person for my loved ones around me. If I wasn't as grounded as I am now, nothing I'm pursuing would have been possible. I work very hard and it's astonishing seeing if feeling pay off- but only because I had utilized my mid 20's to work on my mental health. I'm about to approach my 30's, and I can honestly say that I've never felt as confident and self-secure. More love and abundance for the rest of 2023, and years to come 🙂
You can find x3butterfly on Soundcloud and Instagram.