Entering bunni's world is like peering into someone's diary. It's honest and vulnerable with all of her emotions laid out on the table. Launching the moniker three years, bunni started working on music as a way of helping her find herself again after feeling lost following college. bunni is one of the artists coming through the new wave of Miami's underground and has already released on esteemed labels such as Omnidisc and Juke Bounce Werk. It wasn't until earlier this year that bunni released her first fully formed project, the 'tender' EP, a colourful release which is driven by emotive lyrics covering love, lust, heartache and the loss of innocence. The EP comes at a time where we've seen poppy club music come to the forefront with such crossover appeal with the likes of PinkPantheress and piri & tommy, however, bunni is still very much in the club scene, playing at local Miami parties such as Jezebel, PROIBIDÆ and Perreo del Futuroo. Last summer saw bunni perform live on her biggest stage yet at III Points festival and with the goal to work more within the live world, bunni recently moved to NYC where she sets her sights on new challenges, looking to build a new community in the city whilst bringing visibility to the city she grew up in.
For this edition of The Lowdown we chat to bunni about growing up in Miami and her relationship with music at that time, her motives for moving to NYC, the story behind the 'tender' EP and how she uses music as an emotional outlet. To accompany the feature, bunni has contributed our latest mix which she says "captures these feelings of excitement from living in a new city."
Hey bunni, how's it going today? You've just moved to New York right, how's that transition been for you? What motivated your move to NYC? 
It wasn't an easy decision for me to make, I really love being from Miami. It's a beautiful place to have grown up in, but I think I just needed to push myself as an artist and leave my comfort zone. It was rough having to leave behind my friends, family, and the respect I've earned there but I hope to be able to build a community in NYC, while simultaneously bringing visibility to the culture and exciting things happening in Miami. I'm up for the challenge.
What are you most looking forward to doing in NYC? What does this journey look like to you? 
I'm looking forward to working with different artists out here and really embracing all the chaos that comes with living in a new city. I also really want to explore the opportunities of performing live sets, something I've been wanting to pursue for a while now. The music culture in Miami is so intertwined with DJing, that I've only had a handful of chances to perform live with my gear. It's how I learned to create music, so it's a vulnerable and personal experience for me. I feel like there are more spaces and possibilities of that happening out here, more room for experimentation. I also have never really had the time to just focus on music and so that's exciting for me.
You're a Miami native, what was it like growing up there? How do you think the city influenced you both musically and personally?
I feel so lucky to be from Miami. I was able to grow up surrounded by so many different cultures and experiences. I also started clubbing from such an early age, that it kind of gave me a weird comfort to be in a dark club. Back in high school, I would be out in the club listening to all these types of music, and I fell in love with it. I think also a big thing for me was the lack of women and representation in these club spaces. It sucks but it motivated me at the same time. One of the first females I ever saw DJ was Uchi, at the electric pickle. I loved her energy and how she was just having fun with it. It inspired me so much and I'm so happy to consider her a friend now! I love when life works like that.
What is your earliest memory of music? Did you grow up with music playing around you? 
In all honesty, I grew up in a conservative household where the arts weren't really celebrated. There were some radio stations my dad wouldn't even let me listen to. My parents were not creative, very logical people and I think it really shook them to see me pursuing this. Thankfully they are supportive of it now, but for them it was really difficult to process what being a musician means and if it was possible for me to survive like that. My earliest memories of music was my older brother, who taught me a lot about electronic music. I remember I would steal his Benny Bennassi "Hypnotica" CD and listen to it on repeat. My favorite song was Love is Gonna Save Us. I recently played a remix of that out. It was a full circle moment for me.
Is music something you always felt like you wanted to do? Or was there another avenue in mind before this? 
I actually got my degree in Environmental Science & Sustainability. I was working for the past 5 years in non-profits related to climate change, and most recently climate gentrification. It is something I will always be passionate about, but it also took a lot out of me mentally and emotionally, it was difficult to balance the two. I felt really drained most of the days and it left me really little time to create. I would work 8 hours in the office and then go to my friend's studio and put in another 8 hours of work there. I think this move is also allowing me to recenter myself and focus on music.
What was your first introduction to club music? Was there a formative figure or group of people in your life at the time that introduced you to it? 
I would say my older brother, who was always obsessed with club music. We had a big age difference, and didn't really have much in common except for music. I used to be scared of some of the darker tracks he played, which is funny because now some of the club music I make can be very dark and ominous.
What inspired you to start the bunni project three years ago?
Honestly, music saved my life. As I mentioned earlier, my family was never creatively inclined so I really had to find myself in this. When I started music, it was right after I had graduated college, I felt super lost and had so many feelings and questions about life. I would say music helped me find some of those answers. It gave me a passion and drive that I had never had before. I never imagined I would get to where I am, and I know there's still so much I want to accomplish. Bunni was a nickname I got in school, and I just went with it. I didn't think it would get to where it is now, but I do feel it represents me. Even my parents call me bunni now.
You've just released your first EP 'Tender', what was the process like making the release? How was that journey for you? 
Oooof. This was certainly a journey. There were a lot of ups and downs. I'm really proud of the project though. I definitely made my younger self proud with that one.
I started making music towards the beginning of the pandemic, and it began with the purchase of my first drum machine, the Digitakt. At first, Abelton had been too overwhelming for me and I found using a drum machine was the best way to communicate my ideas. I've never learned music theory or taken a vocal lesson. It was really just about sounds coming together. It wasn't soon after that I picked up a mic and began just saying whatever I was feeling in the moment. One of my first live gigs was a noise set, I was just screaming into a mic and playing with my drum machine. It was fun and freeing. With the first tracks I released, I found it easier to gravitate towards club music because it was all I was playing in dj sets, but I always wanted to incorporate my own vocals into my music.
Once I got more comfortable making music I struggled finding my footing as an artist. The lack of female visibility is real and I struggled with imposter syndrome. It was hard. I actually had a project I was going to release as my first EP, sent it to all my friends, and then decided to trash it. I think it was so difficult because I was really struggling with what kind of sound I wanted to put out or how to do it from being so new at everything. I didn't know the best way to put out a project, how to market it or work with labels. I just wanted to make music. I struggled a lot asking for help, and  being told no. I think it made me grow more as a person though.
What's the story behind 'Tender'? 
The story behind Tender is a story about finding yourself. there's a certain innocence that you lose as you grow older, with the lessons that life throws your way. I wanted it to tell a story, to parallel not only falling in love, but finding your strength. It gets darker as you listen to it. I think when I got into music, there was a certain naivety that came with it, and a couple years later I'm realizing it's still much tougher than it seems. I think it also tells the story of me finding my voice, as this is the first body of work I put out where I focused on singing and writing lyrics, again something I never thought I could accomplish. I definitely healed a lot through this process and this ep is what came out of it.
There's a lot of emotion and vulnerability within your music, does that come easy to you? To be that open and honest through your art?
Yes. It's a blessing and a curse. I consider myself to be a very open and transparent person, and with this project I really embraced my vulnerability, especially with some of the lyrics. It's part of the healing process for me. I've made some really sad songs. It's so easy for things to be misconstrued with social media, everyone seems so successful and happy, and it's because no one wants to talk about their lows or show that. I'm the opposite. Sometimes it's harder for me to celebrate my highs, because I know everything is a cycle. I'm trying to be better about that though. I think most artists I know suffer with mental health issues but it doesn't really seem to be spoken about widely and I think it's important to bring that into conversations because this lifestyle can really take a toll on you.
Why did you decide to use music as your way of sharing these stories? What draws you to this format?  
I'm an emotional being, I do things based on feelings. I struggled with mental health issues growing up, and feeling so many emotions that I never knew what to do with that, or how to channel it in a positive manner. Creating through music has allowed me to process that. I never really go into making music with an intention, like I'm going to make this certain genre of music, but with a feeling. If I'm happy, I can make a fun dance track or if I'm feeling sad, I'll make some emotional ambient stuff. It really depends and I think that's the fun of it. I don't think I'll stick to any particular genre of music ever for this reason.
What feeds your creativity? 
I find inspiration in almost everything around me. I've been taking walks around my neighborhood a lot. I tend to romanticize everything. But I honestly really appreciate film, art, poetry and fashion. I want to find a way to combine all of them in my life. Shooting the music video for "thinkin.bout.U" was a fun way to bring other people into my own little world. I eventually want to explore multiple creative avenues, and I think it's so important to be surrounded by people who are passionate and doing things for the right reasons.
Who would you say are your key influences and inspirations for your music?
Miami has inspired me a lot. It felt like from one day to another I was encapsulated in this scene that was so incredibly talented. I was surrounded by some of the best producers and DJs I've ever met, and they quickly became friends and people I trust. This has helped me so much on my journey. Just having friends who are able to listen and give feedback is so important. Community is so important. The scene in Miami is really thriving, and there's a lot of good music coming out of there. I'm thankful to be part of things like the Omnidisc compilation that came out last year, that showcases that talent.
You've also recorded a mix for us, what's the concept behind this mix? 
I think this mix is really fun. I've been playing it as I walk around NYC, and I think it just encapsulates these feelings of excitement from living in a new city. It feels like a love letter that I'm sharing with the world. I also wanted it to encapsulate the range of genres that have really inspired me lately, from jungle to electro, baile funk, jersey club, and techno.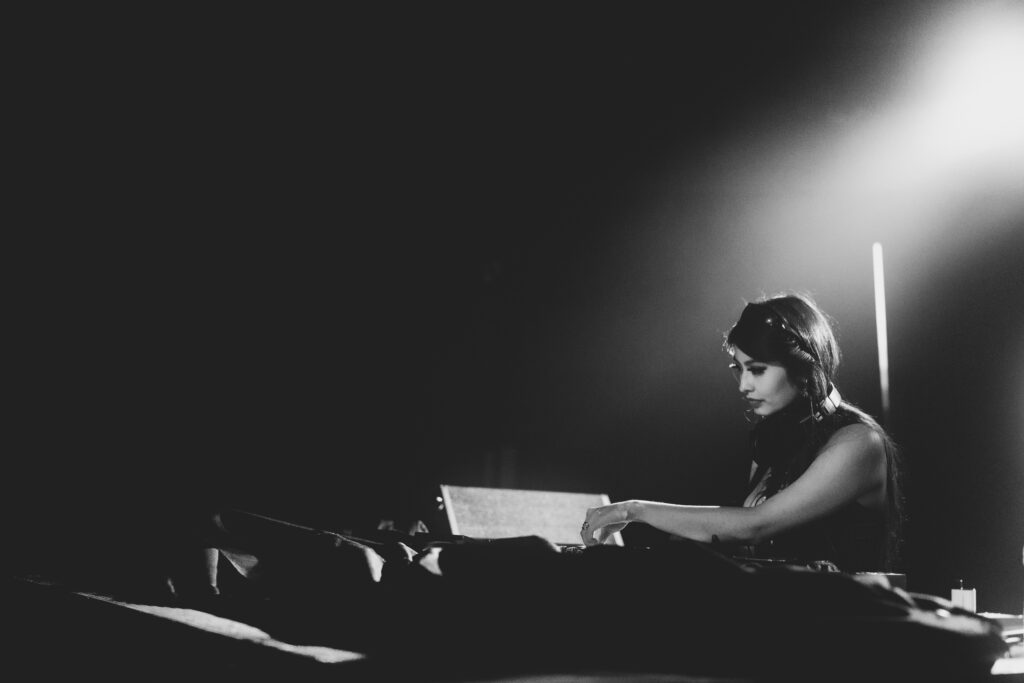 What is your approach to club sets? Is there a story you're usually sharing or are you more focused on your environment and bouncing off the crowd? 
I always want to find a middle ground when it comes to my club sets. I like to look into the parties I play and have an idea of what their sound and values are, and then I do my take on it. I'm always trying to have fun, but also dark and sexy. It varies but I never stick to a certain genre, it's kind of difficult to answer the question "what music do you play?" because I never want to fit into one particular sound. I'll go through cycles where I'm more focused on djing than production and then I'll incorporate the influences from the music I'm playing into my own tracks.
What do you hope to achieve through the bunni project? 
Honestly, I'm really trying to take it day by day without setting too many expectations or putting pressure on myself. I just want to make and play music that makes me happy, and if it makes other people feel something, even better. I'm learning more and more every day and so grateful to have collaborated with so many amazing people and felt so much love from those around me thus far. I'm excited to see what the future holds. Regardless of what happens, music will always be my form of therapy so that's good enough.
'tender' by bunni is out now – stream here.