Born and raised in South London, Fiyahdred has been on a journey. Formerly known as Bamz, their journey began at the age of six when they started beatboxing before moving onto music production at the age of 10. Growing up surrounded by music, with their parents and brother introducing them to music varying across hip hop, R&B, garage, reggae and lovers rock to name a few, it's no surprise that they ended up on this creative path. In 2011, Fiyahdred left school to pursue music production under the Bamz moniker where they self-released consistently and successfully, growing a strong fanbase with the UK funky community and beyond. However, this consistently led to burn out and a two-year hiatus where Fiyahdred fell out of love with music. It was during this period where the name change to Fiyahdred took place and things started to align. Not only a creative decision but a personal one, Fiyahdred stepped into this new chapter feeling inspired and passionate about music again. Solidifying the next chapter, Scratcha DVA linked Fiyahdred with Hyperdub who released their first EP under the new moniker and with that strong support from the get go, everything clicked into place. Since that moment, Fiyahdred has played a notable back-to-back set with fellow Hyperdub affiliate Ikonika for Boiler Room's takeover at KOKO with additional gig highlights including fabric and We Out Here last summer.
What feels like just the beginning for the Fiyahdred project, we caught up with the dynamic producer to chat about what that name change meant for them, slowing down, relationship with social media, mentorships and their approach to their upcoming all night long tour.
Hey Bam, how are you doing? How's your year been so far? 
I'm feeling good, I'm feeling more refreshed and just more centred. I haven't been touring much this year. Apart from the financial instability, it's been nice to just relax and prioritise rest for the first three months – I'm glad I've been able to do this for myself. The work and touring is pretty much back in full swing from this month and I'm really looking forward to what's coming up. 
I wanted to start from the beginning of your relationship with music, when you were growing up. I read that your older brother was one of the people who introduced you to UK funky. Was there anyone or anything else that was bringing you closer to music growing up? 
My mum played a massive part in my music journey as well. We'd go on quite a lot of drives and there would be a range of tunes, a range of genres, across albums as well as mixtape CDs that she would put together on iTunes and burn onto a disc. So much R&B and hip hop cuts, rare groove, 80s funk and then the odd jungle and garage tunes as well as reggae and lovers rock on a Sunday. When she would be doing the school runs we would listen to Lightning FM. I don't remember the radio DJs' names at those times. Tony P was one of them but there were a few others and they would play more soul, rare groove and lovers rock, that kind of stuff. That was a huge influence as well. There would be so many tunes that we would be singing along together. She would always be like 'what do you know about these tunes?!' and I'm like "what do you mean?! You can't play these tunes around me and not expect me to pick up on them!' She's taken me to different concerts, and it's just been a vibe. My mum is so open to listening to new music as well so when my brother was listening to UK funky and house music, it was nice to see the correlation between the genres that she grew up with, specifically within electronic music that she would perhaps go raving too and my brother having his own experience as well. But I didn't really go to the clubs until later on in life so I was experiencing them through my brother and my mum where they were bringing home mix CDs. Music was such a big thing growing up in that household. There were also moments with my dad when I would be in his car and he would be listening to a lot of hip hop and the odd times it would be movie scores. There's been so many different imprints, especially like from just growing up in South London, you are hearing everything. I think that's the beauty in hearing the sound in everything, no matter where you are. You just pick up on so much. 
Was there a song or album that you would listen to in the car with your mum that has stuck with you? For me, whenever I think of my relationship with music growing up, I have flashbacks of when my mum used to rinse the Jamiroquai album in the car during school runs. Was there something like that for you?
There were a few! Vivian Green, Teedra Moses' Complex Simplicity, and Mary J. Blige's discography. There's definitely more! There's also the random mix CDs she would put together with the likes of Gwen Gunthrie, Patrice Rushen, and Loose Ends – all of the 80s funk and rare groove lot. These are bangers you know! I think those are the main albums I remember listening to. Her storage unit where a lot of these CDs were kept set ablaze a couple of years ago so she lost a lot of albums and since then we've both been buying CDs. For one of her birthdays I bought a lot of CDs that I know that she likes and that I also remember listening to. I think my main music memory with my mum is dancing in the living room to Miss Dynamite and Sticky's Booo! A classic! 
You originally started producing under Bamz and launched the Fiyahdred moniker in 2021 with the Anyway EP, how would you describe your artistic journey? What have been some highlights for you? 
So I originally produced under many aliases before Bamz, too many to mention, but Bamz was like when I started getting into releasing consistently. Fiyahdred came about from a visual reference as by that point my hair had been dyed since 2019 and thought this could be a good switch up. Over time having my artist name as Bamz got me confused with other artists who had a similar name. I just feel like it's one thing making a name for yourself no matter what you're called but when you're black and queer you are fighting for space anyway. I just wanted to have a fresh start, I wanted to be more distinct with my movements going forward and just having something that can't be confused with anyone else. I felt like I was stepping into a new self creatively but it wasn't just isolated to being a creator. It was a personal endeavour with the name change and connecting to myself and my craft differently. 
Being able to release on Hyperdub so early on in that transition got the ball rolling on so many different opportunities. Last year I did some crazy gigs! I think I played fabric two or three times, I played at Carnival, We Out Here Festival which was probably one of my main highlights. So many people came up to me that night or messaged me afterwards saying like you killed it, that was crazy, and I was like damn ok, this is cool! It was really nice with a full tent just vibing. Another highlight was Boiler Room, going back-to-back with Ikonika at KOKO last year. I think we bought a really sick energy and she's just sick, she inspires me so much. 
I think a massive highlight has been the growth for me in recognising where I'm allowed to have agency over myself. I'm getting to the point where I can say no and I can do things that align with me a lot more, more than just saying yes for the sake of visibility and gaining more opportunity on the flip side because that's where it leads to burn out and lack of fulfilment and satisfaction. That has been a real achievement for me because it has gone from a point where I was doing so much and the outcome wasn't matching the input, leaving me feeling drained and debilitated and now it's like you know what you can choose – don't let anyone tell you you can't choose. That was a good moment for me and I'm moving forward with that energy this year for sure. 
It's such a powerful realisation when you discover the agency to say no and not saying yes to everything – like it's going to be okay if I say no to this thing. You feel so much better for saying no, it's amazing. Do you feel like everything started to fall into place following the name change? Do you feel like that influenced this realisation? 
Definitely. I feel like moments like that, like the name change for example, was a moment where I consciously followed my intuition. It wasn't done out of fear. It was something that you have to do, that you need to do to experience a level of growth. That's the choice you have to make. It felt like I shed a skin, I offloaded something and stepped into something new. There were moments to be fearful, there were moments to be scared but that didn't affect me the way it might have done before. I do feel like a lot of things clicked into place, it was like universal alignment. The organic growth with things has been really amazing to see. Sometimes I've got to pinch myself. 
That sounds like such an amazing and empowering experience. You're like I've just realised what I'm meant to be doing and this is my calling in life – it's actually going to happen now. I can tell by the way you're speaking about, that passion and excitement is radiating off you. 
It's okay not to be excited about things but I'm done not being excited about things because I'm continually putting myself in positions where there's nothing to be excited for. It doesn't make sense to be very passionate about something then putting yourself in situations where it takes the passion out of you. It drains the excitement, the fulfilment, the satisfaction, the base level joy. It's crazy how much we put our joy on the backburner.  If I'm going to be doing this, I need to make sure it's joyful. I can't always care about the bag. It's fine if it is but what else is it going to take away from me in order to reach some level of stability or satisfaction? Weighing out those options can be a lot sometimes but ultimately you've got to work in the favour of your joy. There's definitely been moments where I've had to do things for money but it always comes back to the fact that I get to do something that I do enjoy regardless. Reaching those milestones in my thought pattern and my mindset has been really good for me. 
I guess this moment has come off the back of you falling out of love with music and trying to find your feet again. The name change was the ignition to get back into it, falling back in love with music and realising why you did it in the first place, almost like finding yourself again. 
Definitely. I feel like there's going to be many points where you lose yourself and find yourself again. I don't entirely believe that I have found myself completely. Unlike before where that unknown aspect of life used to make me very anxious, I'm now sitting with it a lot more comfortably. I feel like I was put here in this realm to be as fluid as I possibly can. Being rigid in any way shape or form has never been my bag. Maybe in the beginning you don't really have the language for it, that's by design. A lot of people don't want you to have the language that allows you to explore fluidity because we have been moulded or shaped to be one way and that just doesn't work for me. I have to be free flowing with everything I do but that shouldn't be mistaken for not wanting to have structure and stability. 
And boundaries. 
Exactly. Trying to find the balances within that can be challenging and it does lead to moments where you are not loving what you're doing and the imposter syndrome creeps in. But it's been good to analyse and recognise where I might not be enjoying something and then try to think of ways to rekindle myself with what I want to do. I feel like in the last six months I have rested more than I have rested in like the last five, six years and I know that we've been in lockdown but that was by default. Intentionally choosing rest whilst everything is happening and allowing rest to be a luxury and necessity as well as something you are allocating a whole day for, has been game changing. It's been a part of finding yourself in the losing yourself moment and it has been really nice. Rest is really important and restorative in that way. 
I want to also ask you about your approach to music production – is it driven more by research or relationships and emotions? 
I would say that it all factors into how I approach music production. An idea for a tune might be born from a word, a phrase, a memory and what those evoke in terms of emotion and what relationship I have to those emotions. Sometimes I could literally just be out and about and there are sounds that capture my ear and it evokes some type of emotion or just sparks a curiosity to want to explore that through creating like a structured piece of music. 
Also just being really slow with music production. There was a point where I felt like I couldn't call myself a producer because I don't make four or five beats a day and that's obviously not true. But breaking out of those habitual thought cycles and seeing yourself as a producer in your own way and carving out space for yourself to explore music production is really important. I'm very inspired by just existing and I feel like I'm at this moment where now there's a lot of inspiration but I want to upskill myself and expand more on my knowledge to convey what I'm feeling or observing in the music. So currently I'm getting back into researching and delving more into different production styles and how those styles create a dynamic in club and event spaces. 
What kind of resources are you using at the moment to research and expand your knowledge? 
I'm looking into short courses or just linking up with people who I'm inspired by. I like going online and listening to more music or going to events that I wouldn't necessarily automatically go to. That's not because I don't see myself there but sometimes the thought of going to an event can be overwhelming in itself. Trying to spark new conversation amongst people that I know. I've been watching a lot of YouTube videos, a lot of tech talks and trying to absorb different bits of information and just being curious about the creation process. Taking bits from previous moments of life and seeing how that can push me forward. 
And on the topic of pushing forward, you have a new EP coming out on Club Djembe soon. What's the story behind this one? What can we expect to hear? 
This EP is going to be carnival vibes, UK funky vibes, just pure sweatbox music. I'm very excited to be putting that together and exploring different parts of myself in terms of my artistry. More vocals, more production techniques. The next chapter. Another milestone for me. 
I can't wait to hear this! I wanted to go back to the topic of mental health because I saw towards the end of last year you posted a Tik Tok where you were talking about your boundaries with social media and how people should stop DMing you about work related stuff, which I can completely relate to, and the accessibility people have to you because of these platforms. How do you feel about social media at the moment? Have there been any other boundaries you've put in place to help protect your mental health? 
Social media just gives me anxiety and I feel like there's so many things that make me anxious about it including the accessibility. We're all susceptible to feeling some type of inadequacy or insecurity looking at other people's lives, as well as other people's lives you did not follow. Why are you putting this in my face? I feel like there's the unwritten rules of social media like the following, the keeping up with the following, it can be a lot. I feel like my relationship with social media right now is that I have exciting things – and going back to the original purpose of Instagram of just posting photos – I just want to be posting photos sometimes of the exciting things that are going on. 
Then going back to the whole thing of like access, I get nervous to post because sometimes there's going to be interaction and it's not that I don't want to interact with people, I just get overwhelmed by the idea of having to interact with so many people at once. There was a moment where I was on social media and I was able to deal with everything being fast paced, but I'm not there now and I'm okay with that. There's certain platforms that I'm not on and I'm not going to give into the whole thing of like because I'm an artist I must be present at all times, like I'm done. I'm signing out of that notion completely. And the thing is, the right opportunities will come into my email, if you are using sense and aware of what's happening on my social media profiles, wherever they are. They will hit me up in the email, where we both have a thread of the conversation, we can both come to an agreement on something, it just doesn't make sense to be doing all these discussions in Instagram DMS, where you can't search anything, you can't send attachments like it's just doesn't make sense to me.
It's supposed to be a personal platform as well, like you said it's a platform where you just tap in, share some photos and tap back out again. It's not supposed to be this business orientated space but somehow that's where we've ended up. 
Yeah that's a good point. I do feel like there are some ways to be professional but they're not strict do's or don'ts. The only main bit of professionalism I'm asking for is for you to come to me on my email. It's nice to have that barrier between business and personal. It does overlap sometimes but they can exist without the other. The main point I was making in that video is that as you say, Instagram specifically has become so business orientated that we don't even go on people's profiles anymore. There's information you could be missing because you haven't browsed their profile, you're just following people and going straight into their DMs like "yeah we want to book you, how do we work with you on that?" 
I also wanted to talk about the mentorship that you are doing with Next Level, what has that experience been like for you? What have you learned from it? And do you think it's important for newer/younger artists to have a mentor? 
It's been really good. It's been a learning experience for me as well because I like the idea of collaboration but then in many instances I hold myself off from collaborating. So I guess being thrown into a scenario where that's what you are there to do and as well as that you are there to guide people, you're there to assist them with going in the right direction whether it be their temporary or long term goals in music, it's nice, it kind of solidifies how you see yourself in your practice. Again, we can get into our own heads and get this moment of imposter syndrome, but it's not about the accolades on paper, your voice is very important. It's been a space where you, along with everyone else, are allowed to have voices and the process was more collaborative. We are all here making music and the common goal is to make music that we enjoy, have a sustainable practice out of and be very fluid with what we're doing. All of the artists that were on last year's next level programme have gone on to do amazing things, it's impressive, but just to mention that they were already doing amazing. We were there to just enhance, and we won't be the last mentors that they have. I think it's always good to seek and align yourself with things that you see yourself being and there's nothing wrong with that. It's ok to go for what you want and it's ok to ask for help, that you need to be in a community and that you do need a mentor. You're never too young or too old to learn something new, to be mentored or to change your direction and that's really cool. 
Do you have anyone in your life right now that you consider a mentor? 
Not yet. I've been using the first quarter of this year to figure out what I want for the next few months, let alone the next couple of years, and that's making me manifest the right person or people to come along. I would love to have someone who will guide me and give me that extra push in certain directions. To be fair, I wouldn't say she's directly my assigned mentor but my mum is a great mentor – not just to me, but to many people. I can see that she has a natural flair for that but the way that she's given me so much to think about and also held space for me to expand and evolve has been really cool. I'm very, very, very blessed to have her as my mum and as my mentor. But like primarily talking about having a mentor for music or like artistic practice, that's definitely something I'm keen on having in the near future for sure.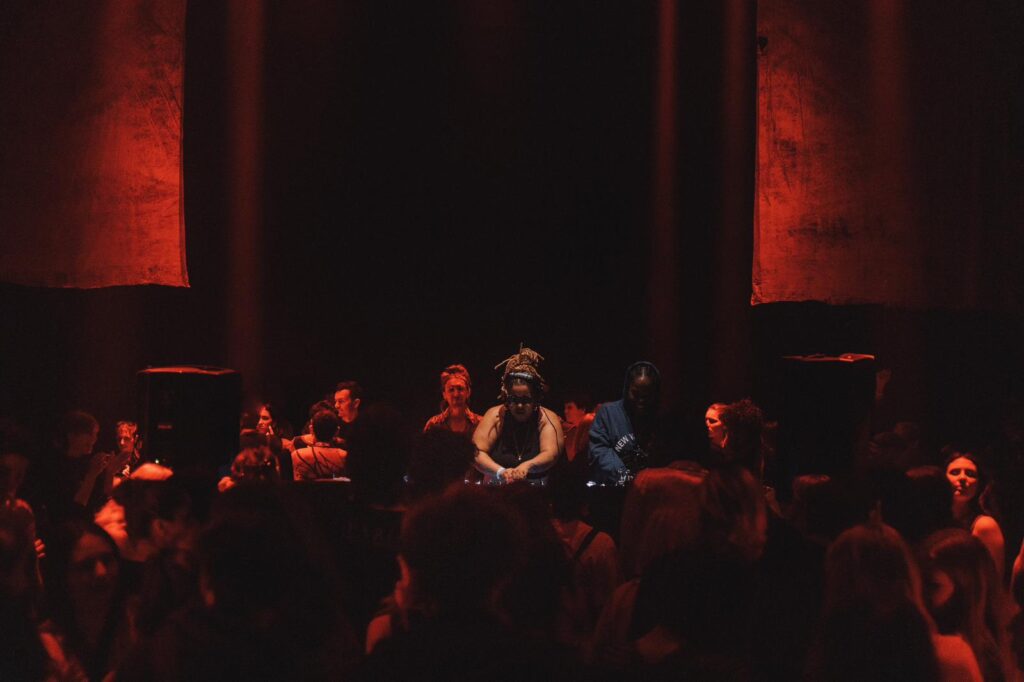 She sounds amazing! Now going on to the mix you've done for us, what's the concept behind it? 
That's a good question. I wouldn't say there's a concept per se but I feel like it reflects a new space I'm going into in terms of the way I put my mixes together, inside and outside of the club. There's more sounds that are kind of speaking to me, there's more pockets I'm trying to get into. Again, like, my love is house music, even though I love all types of all types of music. So the mix definitely shows different shades of house yet again, because that's where I'm at and it shows tunes that I've listened to at different points of my life whether that's in my deep house or UK funky phases. It's a nice one to listen to at any time but I think the real sophisticated ears will pick up on what's happening. There's some good tunes in there that spark a resonance within you. 
And talking about your club sets, how would you usually approach them? I guess you are changing the approach now because you have this all night long tour coming up, is that kind of why you've gone into this new space now? 
That's a good question actually because – I think it was my 22nd birthday – I randomly did an eight hour set and it didn't faze me. The all night long tour has been something I've wanted to do for a while because I find that even doing a two hour set is not fulfilling enough. Yeah, I want to touch many bases and not just in blocks of doing genre by genre, but like mixing genres in with each other and kind of expanding that way. I feel like it will allow me to give the dynamic builds that I've been looking for in my own sets and in other people's sets. I want to show what I've got to the people and I want to share where I've got to myself, you know. It's very important for me to carve out a space where good quality music is going to be played as well as being played in a quality way and holding space for people who might not necessarily see themselves in spaces where the music is good and they're not comfortable being there for whatever reason. Again being black and queer, there's a lot of places you want to go but know that you are going to be uncomfortable in that space so I want to carve out those spaces, environments, and experiences where it's fun and safe. It's really important for me to do that this year, especially intuitively, this feels like the right time to do it.
And what do you hope people take away from these sets? 
People should take away that everything is interlinked, so much so that we can't be moving forward with being resistant to other people's cultures and dynamics when it comes to art and creation. It's important that we hold space for everyone that's a part of pioneering whatever it is they're creating, and it's important that we see ourselves in those spaces. I want to be the change that I want to see and many people have said that before but I'm doing it in my own way. I just want everybody to have a good time. I want people who maybe don't see themselves often to see themselves in that space and just be confident with seeing themselves in that space. I'm looking forward to it, I'm nervous, but I'm looking forward to it. It's the right thing to do for sure. 
Fiyahdred's next EP on Club Djembe will be out soon, follow on Soundcloud and Instagram to keep up-to-date.