I'm writing this up as another edition of Dekmantel Festival comes to a close and it could not be more fitting. I first saw Kampire play at Dekmantel last year after serendipitously coming across her set at the Greenhouse stage. It ended up being one of our favourite sets of the weekend – the energy in the Greenhouse was electrifying throughout as she brought the sound of Kampala and beyond to the Amsterdamse Bos in her signature party-starting style – it was the perfect setting.
Part of the Nyege Nyege collective which was founded in Kampala in 2015 – which is known for being the party capital of East Africa – Kampire was initially asked to help out her friends with the planning around the festival before the suggestion came for her to DJ at these events too. One of the first multi-day festival's with camping and 24-hour music to take place in East Africa, Nyege Nyege's distinctive percussive, bass-heavy and often fast-paced style of music (ranging up to 180 – 200bpm) and selection of world-class artists and DJs have garnered a global following, leading to Kampire's touring schedule to include Red Bull Music Festival in NYC, Boiler Room, REEF Berghain, Body Movements Festival, Bass Coast Festival as well as international Nyege Nyege events in the likes of Amsterdam and Paris. Kampire also hosts a monthly radio show on NTS where she spotlights East African club music and is working on creating safer spaces for women and LGBTQIA+ people as well as teaching women to DJ. Organising some of these events in Kampala which fall outside of the Nyege Nyege brand can be more dangerous with the party unable to be labeled as a queer event and is sometimes necessary to have different levels of security depending on the party.
However, this isn't stopping from Kampire's mission of bringing the sounds of East Africa across the world and hoping to open doors for more African artists to come through with her. Kampire will hopefully be heading to Colombia for the first time this month where there's a big connection between Colombia and East/Central Africa.
Speaking about the 909 mix, Kampire says, "I definitely over thought this one and made multiple attempts and missed several deadlines but here it is! The usual ungovernable blend of genres and cultures, but hopefully one that reflects my growth as a DJ these past few years. I'm so, so grateful that I get to travel and play at such diverse venues and parties, as it has really broadened my palate and pushed me to explore the boundaries of what I'm capable of. As difficult as I find doing them, I do enjoy creating mixes, which give me more space for interesting sounds and silences, and risks I wouldn't necessarily take while mixing live on the dancefloor, so thanks for the opportunity and thanks as always to the producers who make this gorgeous music. I hope you like it"
It's definitely bringing me back to that special moment at Dekmantel in 2022, losing my mind on the dance floor with a huge group of friends who were all so happy to have stumbled into that stage at the right time to witness the powerful energy of Kampire.
Hey Kampire, thanks for taking the time to do this interview and accompanying mix for us! We're super excited to have you featured on the site. How are you? How has life been treating you lately? 
It's summer in Europe so I've been touring quite a bit, which is a lot, but I'm also super grateful whenever I'm behind the decks that I get to do this. So, taking it all in.
Starting from the beginning, what was your first introduction to music (not specially electronic music) and what was your journey like becoming a DJ? 
I don't recall an introduction because music has always just been there. From my parents' songs and tapes as Ugandan immigrants living in Zambia, to listening to my older brother's favourite radio show to catch RnB songs premiering, to watching West and Central African bands on whatever pan African music show they were syndicating on local television at the time, to going to university in the US and developing my own immigrant's relationship to music with the assistance of early youtube. When I moved to Kampala in my twenties I went out a lot because Kampala is a party city, and while I loved dancing to 2000s dancehall and Ugandan pop, I also felt in my heart that M.I.A or Orchestra Makassy would go down on the dancefloor but never got to hear that kind of thing anywhere 
It wasn't until a few years later I started hanging out with the people who make up the various groups and subcultures that eventually became Nyege Nyege, that I ever thought about Djing. I was inspired by people like Gafacci and Marfox who came for our first edition. I had been to Lake of Stars, Africa Nouveau and Sauti za Busara and knew I wanted to go to more African festivals, and when people started inviting me to play, it seemed like a great way to. I still feel so lucky with every invitation that anyone anywhere wants to hear me DJ.
You mentioned in a previous interview that there was plenty of appreciation for music in your household growing up. If we were in your house during that period, what music would we be listening to? 
Franco et le TP OK Jazz, Kenny Rogers and bootleg blue tapes of Whitney Houston in my dad's car. DMX, TLC, Eminem coming from me and my siblings bedrooms, and System of a Down on late night Channel O on the TV.
Are there any formative artists or albums that helped shape who you are today and steered you towards this path in music? 
Buraka Som Sistema's debut album, Black Diamond made absolute sense to me, and those tracks still bang out a dancefloor.
What is it about Kampala that feeds you both artistically and personally? Are there any direct influences from the city that have fed into your work and approach as an artist?
Kampala at its best is an incredibly warm, welcoming and diverse place. So many different East African ethnicities and subcultures live and socialize there. I think you can hear some of that in my sets where dancehall meets rhumba meets kuduro or gqom. But the political situation and economy in Uganda are very hostile at the moment and have been increasingly so for a while. I think you can hear that in some of the darker sonics coming out of the region, people like Rey Sapienz, Slikback, Turkana or in the lyrics of rappers like Ecko Bazz.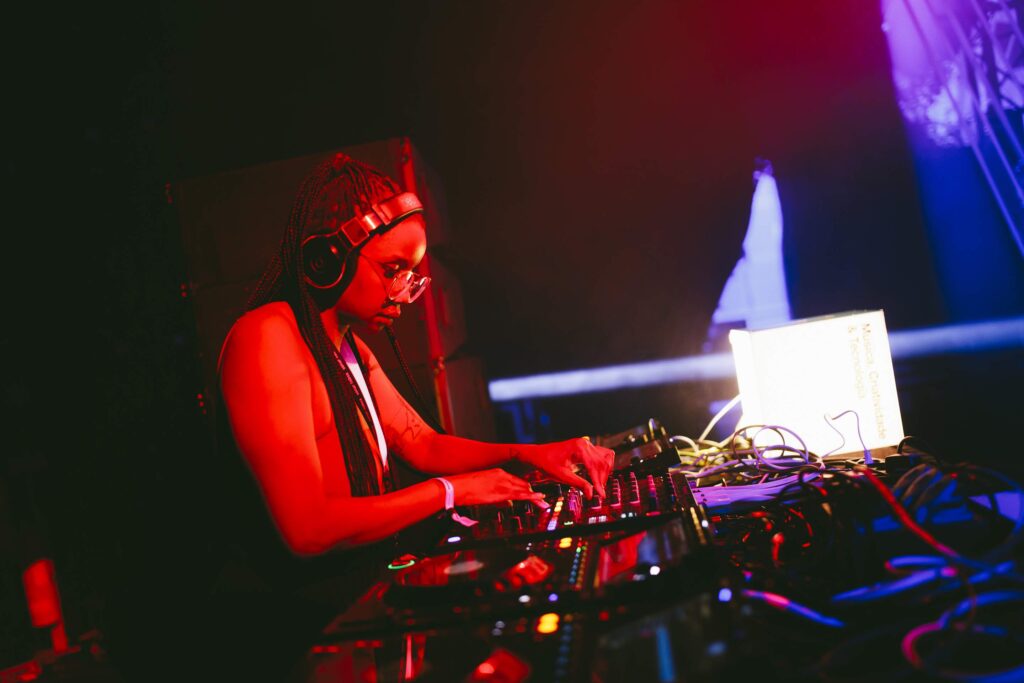 When it comes to creativity, is routine important to you? How do you prevent artistic burn out? 
If there's a way to get things done without the looming threat of a deadline and a healthy dose of panic, I haven't figured it out yet
Has there ever been a moment when you just can't listen to music anymore, when you just need a break from it all? Or is it just full immersion at all times for you? 
I don't think I've ever taken a conscious break from music, but if I don't have any shows around the corner then I will take a break from digging for dancefloor tunes. I'll listen to 70s or 80s African records on vinyl or youtube, or genres like soul and RnB that I don't usually play. Listening to an album all the way through on repeat a few times is a good antidote to digging fatigue. But it's never too long of a break because I always have a radio show to prep for, or a gig to get excited about on the horizon
What is your approach to preparation for a studio / radio show mix versus DJ set? 
For DJ sets I'm fairly focused on making people dance whereas for mixes I can take detours or include songs just because I find them interesting. For my radio show I might play genres I don't usually play out but I'll include them because I want to platform east African alternative genres and young producers. 
You mentioned in the quote for your mix that you hope that this reflects your growth as a DJ. What have been some of the important moments that have helped your growth? What have been some of the biggest lessons you've learned along the way?
Gosh, where to start. I learned from my Nyege Nyege family to get weird wherever possible, because they were making interesting, weird shit and I wanted to help represent that sound, so I had to figure out how to fit it into my sets. I learned from collectives like Boko Boko! and Pussy Party Joburg that there's power and fun in numbers. I learned to put a bit of reverb on the vocals for my radio show from Lord Tusk, and how to do 4 radio shows in 4 weeks while touring 3 continents during my trial-by-fire BBC residency. I learned that actually, imposter syndrome be damned, maybe I do deserve to be DJing professionally at this level after getting incredible audience responses after sets at Sonar and Berghain and the White Hotel. I learned after terrible sets that there's always another set tomorrow or next weekend . And whenever I watch my peers play I learn that there's always more to master behind the decks.
What story are you trying to tell through your DJ sets? 
Usually i'm just trying to make people dance, and draw connections between the wide variety of African and African-influenced popular and electronic music. I want the audience to experience a kind of ecstatic frenzy and release that only dancing can provide. 
In your RA Podcast interview you mentioned that mixes can act as a snapshot of time, if you were to look back on this mix you've done for us, how would you describe this moment in time? What do you think it reflects? 
A weird and emotional time in my life and for the world more generally.
Do you have one staple track in your sets at the moment? 
There's an unreleased tune by Obeka called Swazi Oye' that I've been rinsing, I think it drops soon so look out for that one. He's definitely a young producer to watch.
Do you have any routines any place when it comes to digging for new music? Any go to platforms / labels / artists that you always look to for inspiration? 
Definitely bandcamp, there are a few labels and artists that I always get excited to see new drops from; moretime, N.A.A.F.I, Principe, Swak Catalog, XXIII, club Yeke. I also always check out soundcloud for edits and also whatever crazy Brazilian funk playlists are making the rounds. A few South African music blogs as well, and then I like to dig my own hard drives because they are not very organised so there's usually something in there that i'm surprised I own. 
What is your current obsession? What are you excited about at the moment?
Hopefully, visa gods willing, I'm going to Colombia for the first time at the end of August. There's a big connection musically between Colombia and East/Central Africa so it has a lot of meaning for me to make it there. It's a very short trip but I'm hoping it'll be one of more to come!
Tracklist: 
Bath Slide – GЯEG
Hung Up on Gqom – State OFFF
GQONG ROAD – Budalagi
Swazi Oye' – Obeka
ELA VEM PRA 17 PRA SARRAR NA MINHA GLOCK (NogueraDJ e DJ Léo da 17) – MC's RD, GW e M7
Romano – Elk_Music
Wewechuma – Razoof
Ririmi Rotsombela – Di Groovy Girls
Louco – Deny Sinto x SERA
PASSA-TEMPO – Lilocox
POLARIS (LAO BOOTLEG) – Bostich
Love Is Stronger Than Pride Edit – Deech
Stasix – 3xOJ
All Like That – Moktar
Umbrella – Holandês
TAMBORZÃO RAIZ – MC LUIZINHO MC MAGRINHO ROSE DA TRETA KEVIN O CHRIS FEAT ( DJ LUCIAN DO ANTARES E GORDÃO TREM BALA)
Medley de Bandido (Ballads Jersey Club Edit) – Ballads
Raízes – DJ Doraemon
We Outside x Loves Me ( Prod. By CalvoMusic) – DJ Slick x Jill Scott
No Days Off (Instrumental) – Teni
Padou Mixe – DJ Finale
Bobo (feat. Aunty Rayzor) – La Pangola
NASTY RIDDIM (Prod. by Lashley 'Motto' Winter) – Teamfoxx
Mad Ting – Muv Short Edit – Squeezey Rankin
Baby (Muv Squid Game Edit) – Madness Muv, Sackie
Cut It Out – Okzharp
Mr Prickle ft Big Sea (Sick Jab Riddim) – Blackboy
Pequeninha – Cardosu
Program Director – MoMA Ready
Automatic – Kyng Ken
Bowzzie – QECHUABOi
Go Down – Dj.Mc
You can catch Kampire at Flow Festival this weekend from the 11th – 13th August – buy tickets here.