In the last few years I've seen an increasing appetite for smaller DIY festivals which are usually less than 1000 capacity and have a community-driven approach to programming. Whether that's because I'm getting older and my social anxiety steers me away from these huge, often commercial, festivals or that the world that I orbit in is taking matters into their own hands after having our fair share of poor festival experiences (it happens way too frequently). There's been a crop of these smaller festivals appearing over the last few years, especially in the UK, however, one that has stood the test of time is Field Maneuvers. Celebrating their 10th anniversary this year, Field Maneuvers has firmly established itself as rave utopia and one of the most exciting festivals to look out for in the summer calendar.
Founded by Leon, Ele and Henry after a formative festival experience, Field Maneuvers is an intimate event that takes place in a secret location in Norfolk and was once described by Crack Magazine as the 'UK's best kept secret'. Inspired by the free-party movement, Field Maneuvers caters to the free-spirited through their fun approach to stage production, eclectic musical programming and bringing together collectives from the UK and beyond to curate their own slice of FM heaven. Over the years, their bookings have included Peach, DJ Voices, Avalon Emerson, Jane Fitz, T.E.E.D., I Love Acid, Ben UFO, Honey Soundsystem, Mike Servito, Ben Sims, Ryan Elliott, Nick Hoppner, and Hannah Holland to name a few. They've also teamed up with other UK promoters such as Freerotation and Gottwood for fundraising events and recently collaborated with new DIY festival Off Kilter when the last minute licensing decision meant that the event couldn't go ahead, offering their ticket holders an exchange to attend FM this year instead.
Going all out for their 10th anniversary, boasting one of their biggest line-ups yet, FM have teamed up with the likes of Black Artist Database, Dialled In, Dalston Superstore, Pacifist Techno Sanctuary, Rye Wax, Mix Nights, Sub:System, and more. Plus with Optimo's Watching Trees festival on hiatus this year, the Glasgow-based team will bring Watching Trees to the Sputnik for a very special takeover. The artist billing features Batu, Ahadadream, Bake, Tim Reaper, DJ Wawa, Bashkka, Danielle, Daisy Moon, Local Group, mixtress, Shy One, Steffi, Solid Blake, TSUNIMAN, I. JORDAN, and more.
With the festival taking place this weekend, we caught up with the founders to talk about the origin story of Field Maneuvers, the challenges they've faced over the years and how it's constantly evolving, the events that have influenced them and what it feels like to reach 10 years. You can also catch up on the FM x 909 mix series takeover with contributions from DJ Wawa, Bake and Tim Reaper below.
Congratulations on reaching your 10th anniversary, what's the origin story of Field Maneuvers? 
Leon: We were old enough to know better, but also young enough and cocky enough to think we could fill the rave-shaped hole that we found in the festival scene at the time. We were going to lots of festivals together as a group and thought we had a good idea of what we would do better.
Ele: The very first inkling of FM came into being on the Monday morning at the very last edition of the sadly now defunct Big Chill festival. I was working for the onsite radio station, roping in the likes of Jimmy Edgar, Brandt Brauer Frick and Mixmaster Morris to host shows whilst Leon and some of our friends were there to party. We had a very fun Sunday night, although the details of the music we watched are pretty hazy now, but on Monday morning Leon & I found ourselves at the 24hr cafe, bartering tobacco in exchange for Haribo, and cherry picking all our favourite bits of all the festivals we had been to that summer into our dream party. After that we roped in my partner Henry for his business nouse and spent a good 12 months meeting up in pubs writing down dream line-ups on beer mats before we got our act together. 
How does it feel reaching 10 years? Looking back, is this how you envisioned FM panning out? 
Leon: In all honesty at many stages I'd have thought we'd be bankrupt or in jail by now, or at very least not speaking to each other! So being where we are and having our friendships intact and still running events is very much a win in my eyes. 
Henry: I think I did envision us making some money at one point. How naive was that? Every year we take several weeks off work, to work twice as hard as we do in our normal jobs, for nothing. So it's a good job everybody has a nice time!
Ele: I don't think any of us envisioned FM lasting this long. We've never had a game plan so to speak. We've always just been focused on the next party. It's a deliciously vicious cycle. Stage 1 of the cycle: go all out booking your dream party. Stage 2: fret about ticket sales / rising costs of everything / vow this will definitely be our last year. Stage 3: throw a pretty decent party and then find yourself high off the fumes of everybody having a good time and get sucked back into doing it again and again and then BAM, before you know it you've reached 10 years. 
What has it been like for you navigating the last few years through the pandemic and then re-adjusting back to some sense of normality again? 
Leon: I'm sure the majority would agree that it was truly shite, but being an event organiser was a different kind of shite, where the thing you were working towards became impossible, and then almost possible, and then possible if you removed all the good bits and then finally possible if you didn't mind losing a shit tonne of money. FM2019 had been our best party yet by a few measures so to be pushed back to square one after this was pretty hard to deal with. 
Ele: Last year was especially difficult for us. We ended up having to run a crowdfunder to cover our losses from the event. This happened for various reasons; postponing twice due to covid meant we racked up three years of day-to-day costs (storage, licensing etc), plus rising costs of everything (especially infrastructure/transport) and then we had a lot of no-shows at the event (because people had bought their tickets pre covid, almost 2 years prior so understandable lots of people's situations have changed). But as awful as it was to announce our crowdfunder, the overwhelming support we received from our FM fam to help us reach our target was a reassuring reminder that our party does deserve to exist.
There's a real community spirit that runs throughout Field Maneuvers, from the artists you book, the people who attend and outreach to support other festivals such as the recent collaboration with On Kilter. What does community mean to you? 
Henry: Who doesn't like community? It feels like it's happened accidentally but actually looking back, with no money to throw at the project, all we've ever had to give in abundance is good vibes, good times and goodwill. And I guess reflected back at us in the type of crowd that comes back together every year. 
Ele: FM isn't our party. It's a party that relies on community. Sure we organise it, but sometimes it can feel like our preparation is just building castles in the sky. FM only really exists for those 3 sweet days when everybody comes together. I think everyone who works at FM or parties at FM feels like they have made a personal investment in the party.  Whether that's playing a set, working a stewarding shift, helping with set up, buying some merch or bringing immaculate vibes to the dancefloor.
Leon: Regarding the On Kilter thing – we didn't know them personally until recently but to us it feels like an obligation for independent events to help each other out where we can. We're all out here risking a lot just because we love a party. 
What draws you to organising events? What is it about this specific creative format that motivates and inspires you? 
Leon: Having worked in nightclubs and music venues on and off for 20+ years I've seen how brilliant events can be but also how restrictive it can be working in venues within a city. The  local authorities and stakeholders are able to dictate how people should be allowed to party. For example, in London, it's rare that a club is able to open all weekend. And on top of that they often have fairly draconian licensing laws in place, for example ID scanning seems to be increasingly prevalent which in turn prohibits the attendance of underrepresented communities who equally deserve access to nightlife. With ravers having gathered for weekend long parties for over 30 years now, one would hope that this would no longer be an activity which is frowned upon by the authorities, but it seems to still be an uphill struggle in many licensing districts. 
Ele: Personally I specifically love curating a weekend-long party in a field. We've put on club nights over the years and they were fun but often you're only booking one room and therefore one vibe. Plus there's a wholesome kind of magic partying outdoors; no walk of "shame" or tweaked out uber rides home, just vast skies and green. And it's really fun programming three days of music across three tents (plus the ambient tent curated by the wonderful mirosundaymusiq*). We love making sure the vibe in each tent is different to suit all moods, or planning a few wee surprises for Sunday as pick-me-ups for people might be low on energy. 
Henry: For me it's the opportunity to spend three months of the year talking to my wife about rising infrastructure costs over dinner.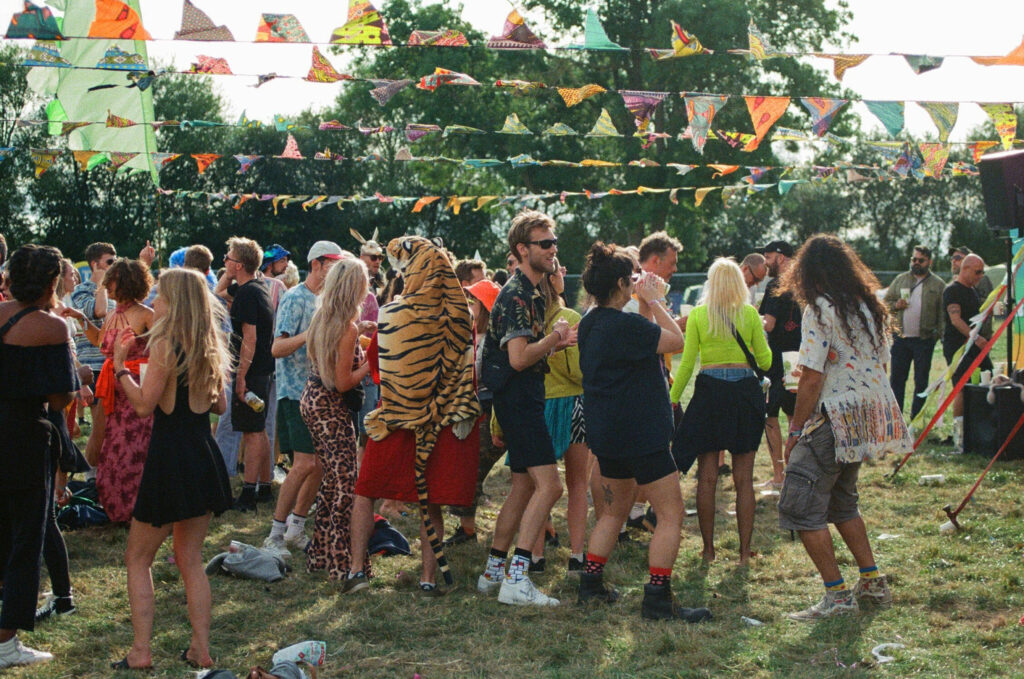 What are some of the most formative events that you've been to that have helped shape the ethos of Field Maneuvers? 
Leon: Lots of our early raving experiences were free parties, squat raves etc where you were charged 'a pound for the sound' on the door and the lack of security meant the crowd was basically self-monitored. Sadly it's not financially possible for us to put on events for a quid any more and we are more than happy to employ friendly security and welfare to ensure a safe event for everyone. But those early experiences of optimistic rave utopias left a lasting impression on us, and instilled in us the idea that creating an environment that doesn't follow all of society's rules – and isn't ruled by the greed incentive – is possible and something worth working towards.
Ele: And we definitely need to namecheck Freerotation. Before we attended Freero it was always only the tiny pockets of big festivals that appealed to us. They were the first small festival we attended where they stuck to their guns musically, didn't try to cater for everyone  and made a smaller festival seem achievable. Big up Steevio and Suzybee. 
Have there been any moments that have changed the way you approach organising parties? 
Henry: The first couple of years where we thought we could just party at the event we were organising taught us quite a few lessons about remaining sober.
And the massive financial hit we took last year. I don't think we've ever been more organised than we have been going into this year. Not only did last 2022 swallow up half of a year of prep time, we then spent another six months trying to clear up the mess afterwards. For several months we couldn't move in our house because of the crowdfunder merchandise which Ele was staying up until 1am every night parceling up. We've all got lots of other stuff going on, so to spend the best part of a year immersed in trying to keep the festival we run for free alive, was quite a trial. 
Are there any initiatives you are currently working on that you hope to implement in the next few years? This could be anything from sustainability to safe space policies. 
Leon: We're constantly working to improve our accessibility and reviewing our safer space policies. We also need a dual focus of making FM more environmentally sustainable as well as  economically sustainable – so the organisation is strong enough to weather the inevitable ongoing economic challenges of climate change and brexit.
Ele: We launched our access ticket scheme this year which is something we've wanted to do for a while now. This scheme allows us to offer heavily discounted tickets to people who wouldn't have been able to attend FM otherwise. These tickets are for people who are on Universal Credit, NHS employees, striking workers and other similar circumstances. We believe we all have a right to party and we want FM to be as accessible as possible. 
What is your approach to curating your lineups and programming for the festival? 
Leon: Put simply we've always tried to create a programme that caters to our own tastes, constantly asking "what would we want to listen to at that time of night?" While this approach risks losing the broader appeal other genre-specific event line ups have, it creates a line up that stands out from the crowd, because it isn't designed to appeal to a specific one.
Ele: For me festivals are meant to promote a utopia and I want to see that reflected in our line-ups. We've always tried to book a diverse selection of DJs, and thank goodness the all white male line-ups that plagued electronic music are *almost* a thing of the past. Previously we've had lots of chats with agents who wanted better billing for their white/male artists, who despite being brilliant need to share the limelight with a more diverse range of artists than they have done previously. We want to exist in a world with governments that prioritise trans rights and black rights so it's important that the tiny bit of world we govern reflects that.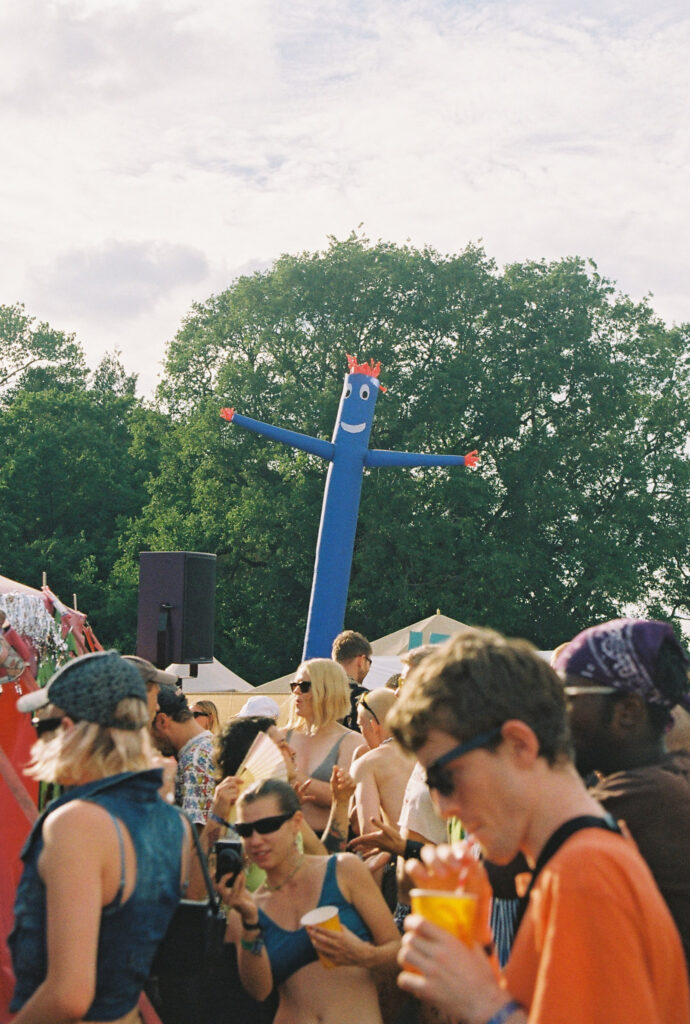 What have been some of your favourite memories from previous parties and festivals that you've hosted? 
Leon: Running this event I've lost thousands of pounds, been run over, threatened with a shotgun, and lost more nights sleep than I can count – but it's all worth it when you see your oldest pals smashing it on the decks on a stage you created. Or when me and Henry won a double jackpot on the fruities like we did Sunday last year. 
Ele: There are too many… Eris Drew and Octo Octa closing the festival last year was magic. Eris' flight was delayed so the first half was Octo Octa solo. She played the most perfect euphoric and intense hour of rapturous ravey house cuts and just when we thought it couldn't get any better Eris arrived. They shared a kiss and the crowd who had been gunning for Eris' late arrival went wild before we were treated to the madly intoxicating synergy those two have when they play together. 
Spencer Parker's secret after hours set in Sputnik one year. Booking Blessed Madonna for one of her first ever UK festivals way back in 2016 and Ben Sims and his wife Rachel leading her astray in the best way. Leon's childhood buddy Gout playing a jungle set b2b with rave legend Mark Archer of Altern-8. And Fast Eddie trying his first ever pickled egg in the FM pub. 
In what ways has running parties impacted your relationship with music? 
Leon: FM has had a great effect on my relationship with music, because it's just an annual event there's a lot of listening and planning and building up of excitement to hear the artists you've booked. Being involved in promoting or managing more regular events in clubs can lead to music fatigue and definitely needs to be approached with more caution. After a few stints working fulltime in music venues and nightclubs I've found that a real break is important every now and then to renew my enthusiasm for club music.
Ele:  I used to work as the booker for a cross-genre 40,000 capacity event where every booking would be made with ticket sales in mind. Whereas with FM we can just follow our instincts 100% and only book acts we love.
What are you looking forward to the most about Field Maneuvers 2023? 
Leon: Saturday in the dome we have a real family moment with DJ Hectick, iona, Local Group and Mark Archer – the bpms and emotions will be running high! Also longtime FM family member and production whizz Ahsan brings his Dialled In team to FM for the first time and it's going to be incredible. 
Ele: Ooft.  Don't make me choose. We have so many sick takeovers lined-up: Dialled In, Black Artist Database, Dalston Superstore, Machine & Mix Nights to name a few… I think Batu b2b Bake closing the main tent on Friday will be one for the books. Also the whole of Dalston Superstore's Sunday takeover on what has affectionately become known as Sungay: I. Jordan, Bored Lord, Bashkka, Josh Caffé b2b Hannah Holland, Buggery Gripps, Bethan, Sadidas, Super Drama b2b Milk Shandy and especially rising stars faff, Marie Malarie & J.Aria. Oh and we have a new outdoor stage designed by Kinetic artist Parker Heyl which I'm very excited about. 
Henry: A new fruit machine for the FM pub that I've just got hold of called Reservoir Frogs. And hardcore pioneer Sharkey of Bonkers fame on Saturday night. He's going to blow the roof off Sputnik.
Field Maneuvers takes place this weekend from the 18th – 20th August – more information here.
Photo credit: Antonia Müller