Making their debut last year on the Edited Arts imprint, dj meddle draws together skeletons of global sounds to create raw, tense, confrontational and sometimes euphoric club records. An ever changing and expanding journey, dj meddle was originally based in London, cutting their teeth with productions and mixing from around the age of 15/16. Soon after that, they joined the Rinse Academy for a year, attending sessions once a week from the likes of Roska, Jamie George, Blacks and more. It was the relocation to Porto which helped dj meddle form the sound they have today, inspired by the people around them who encouraged a sillier approach to production, not being such a perfectionist or taking things too seriously. This sensibility can be found on their debut album 'le jeu du stop' which is out tomorrow on London label Tobago Tracks. The album was initially started as a score to an abstract comic created by artist Miranda Smart (you can buy the comic on the label's / artist's store), and that's how the last track 'drafts' was made. Following that, there were several collaborative sessions with Brazilian and French artists and produced between Porto and London. It's an outstanding feat for dj meddle's first album who really takes to the long-player format to showcase the versatility of their productions from obscure references to pop, kuduro and dancehall to blistering club excursions. Buckle up! 
We chat to dj meddle for our latest Lowdown feature to find out more about their first introductions and artistic journey so far and delve a little deeper into the process of making 'le jeu du stop'. There's also an exclusive premiere of 'rosa imunda' featuring 1o0 roque below.
What was your first introduction to music? Did you have a musical / creative upbringing?
I played a couple instruments as a kid, and then started producing and mixing around 15/16. My first 'underground' love was funky really, the Marcus Nasty show on Rinse was a regular one, and then a lot of 140 stuff soon after…
I was also in the Rinse Academy for about a year, once a week, when I was 17. It was run by DJ Wonder & Eddie 7evens, I learned a lot there. It was quite mad when i think of it! We had sessions with Roska, Jamie George, Blacks, Sarah from Rinse, LX one…
I still enjoy doing live things when I can, it's always fun playing with people. I've played drums with samba bands, protest bands… it'd be nice to start again.
What has your journey been like to forming the sound and style you encompass now?
I think for a while I made tunes that were quite stiff, quite serious, they would take ages to finish! When I moved to Porto, I found it much more fun to make music. Lots of my mates there are artists who do music on the side, they inspired me to not take things so seriously, be silly, less of a perfectionist. There's also quite a few noise musicians there which I think changed the textures and samples I use. 100 roque, CHEEZ, Doutor Uranio, Oficina Arara… they all taught me the beauty of being silly.
There was a little concert we once went to in somebody's house near Marquês, which was renditions of John Cage's compositions for kitchen utensils! That was a bit of a key moment to experiment with polyrhythms some more, I think I made 'speed is life' the week after that. When I moved there I set up a sound design business, which also helped to work faster to deadlines, do more iterations of things. It also forced me to find loads of odd samples.
I think you can hear a lot of dub in my sound, that's a big inspiration for low frequencies, using found sounds, the use of space. Shouts to Oxman from Dub Vendor and my old friend Mark, they taught me so much about roots and dub and reggae as a teenager.
Are there any notable figures in your life that help inspire you creatively?
Ow, yes! Really I just make tunes for (and with) friends and family. Endongo FM, Taxikick, M25, G-Force, Hard Shoulder, No-knees, Whitey K, Emile, KT 2.0, MC Vasu… I just make things I think they'll like, a mish mash of everything we play together, all the tunes I've found through them.
In recent years Equiknoxx, Raime, Villaelvin, xin, MSYLMA, Acre, Silvia Kastel, Kelman Duran, P.ADRIX, 33EMYBW, RP Boo have all influenced me around groove, making rhythms out of foley, how to manipulate vocals, using noise in musical ways, atmospheres…
Outside of music I've made quite a few bits with an illustrator, Miranda Smart, like the abstract comic which you can grab with the album. Usually she'll draw something and I'll make a score to help to read it, it's a great exercise if you're not feeling so inspired.
You're about to release your debut album 'le jeu du stop' on Tobago Tracks, what is the story behind the album? How did this come about? During what time frame did you record this album? Was it over the past year during isolation? How did you find the recording process?
I had made a couple of tracks in Porto, and then moved back to London to go back to school. I asked Miranda if she had anything to score as I needed some new ideas, and that's how we made 'drafts', the last tune. That one sort of inspired me to make the rest.
'speed is life', 'fever' and 'snaketerlude' were all made during lockdown, the other ones just before. I didn't think much of 'speed is life', it was just a little drum loop, but M25 and DJ Hard Shoulder said 'this needs to be finished it bangs'. I made most of 'sexy eyes' in a Pret in Holborn.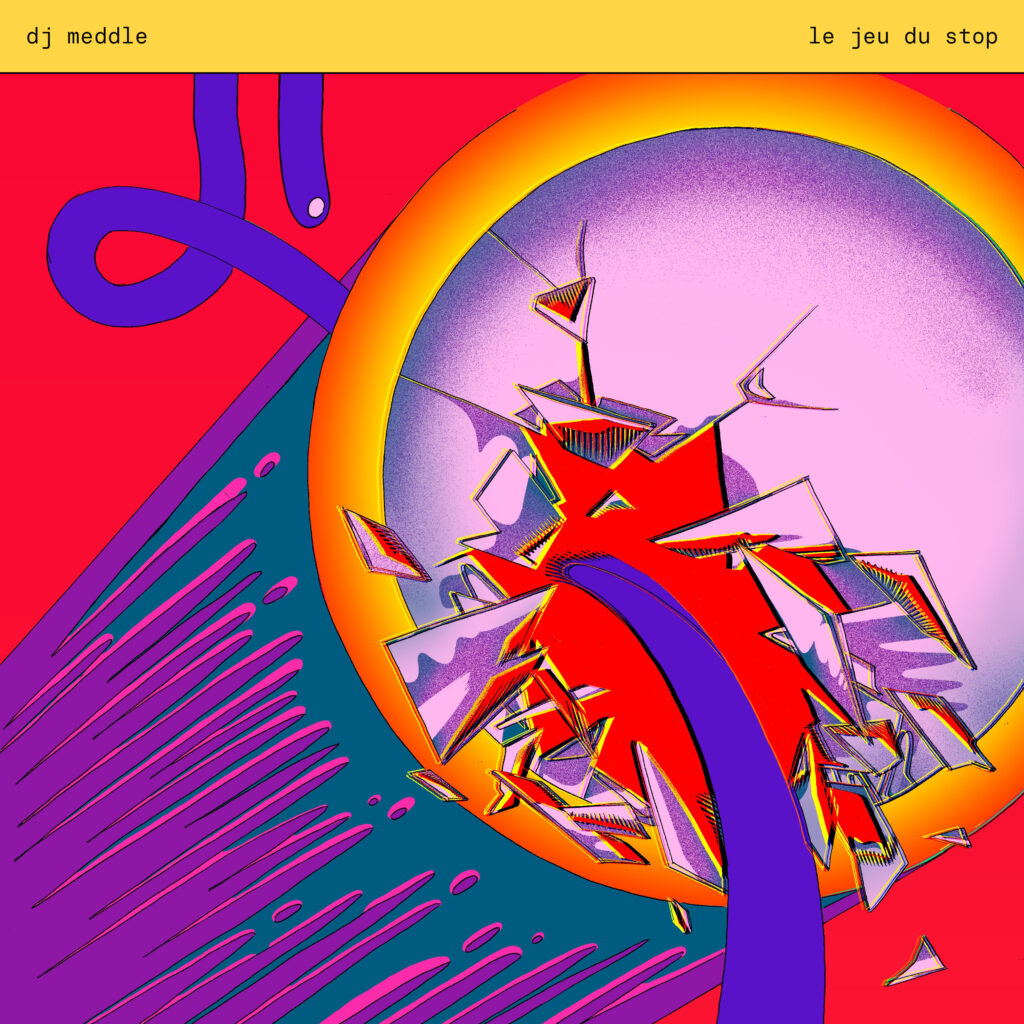 If my translation is correct, the title translates to 'the hitchhiking game', what's the story behind this?
The name is from a little story by Kafka, it aligned with how much I was moving around, moving back… it's also to do with speed/its absence and how that changed across Porto and London [shouts Whitey K for teaching me speed is life & MC Mou Jung for teaching me there's no rush].
Do you have an environment or setting that you prefer to work in? What does that look like?
In Porto I had a studio in the 'stop' shopping centre, which was a vibe [shouts Sergio and André]. That was the best really. I'd just set aside days to go there and make music, record with others, everybody lived so close compared to here. It's too pricey to rent london unfortunately, maybe i could have another look soon…
Otherwise I often record sounds when I'm out and about and they end up being little melodies or drums or foley. I think finding the right samples is the hardest thing! if you have those everything else flows.
Your work in general is heavily driven by collaborations, with several artists featured on 'le jeu du stop' and inviting artists to edit your first EP 'beyond shame, any second', what is your approach to collaborating and what do you find are the pros and cons?
I think working with others just gives everything another dimension, you always go in a new direction which ends up rubbing off on you in the long run. The first vocalist I worked with was Ece Canlı (on 'twenty five four' for Edited Arts) and it was mesmerising. It was a little instrumental, she asked me to keep it on loop and then just did one enchanting non-stop take for half an hour, that was it!
In general I see all creation as a game of cat's cradle, you're just adding a little step to everything that came before you. I think once something is out there it has its own life, so I like to give away stems of everything so people can do what they want. That's how the remixes on Edited Arts came about actually, sending stems to people I admired.
Could you introduce us to the artists you've collaborated with for 'le jeu du stop'? How did you go about selecting who to work with for this project? What did you learn from working with this selection of artists?
They're all just family really! On 'skin', lou____iza had bought this little kid's synth from Vandoma market, and I sampled that to make the melody. We then recorded her singing, screaming, chatting and put it all together. The beat I'd already made to do a remix of 'Desce Balão', a funk tune. I don't think she'd recorded before, she's brazilian but really I think she was a UK Garage MC in a previous life.
100 roque is lou____iza with 130_ivxx and pierre pierre pierre, they all lived together at the time and started a noise supergroup where 130_ivxx was playing the feedback off a mixer that was also triggered by the voltage from a strobe light, ppp was doing his madness on supercollider and lou____iza would just scream with (at?) loads of pedals. They did a live gig for a radio show I did on Portal Radio [shouts Sian and Dan!] where I got tinnitus as well as the samples which became 'rosa imunda'. That was the name of the space where they did their first gig. It was incredible – I got real 'futureshock' that day – like what have I just witnessed? You can actually 'listen' to all those gigs here, it's also got a little vocal from mc nick's 'mete com força' which we used to rinse at the time.
'fever' is really the sound of lockdown, all of the love, laughs, tension… I had these sounds that I was putting together and I was recording a bongo just through my laptop speakers, so it caught M25 and Endongo FM chatting and singing, it's just the sound of our flat! (Endongo FM's actually singing 'feedback' but i thought it was 'fever', i guess i had corona on my mind…) Taxikick then added some percussion at the end. Recently I've worked on some new tracks with Taxikick and Endongo FM properly MCing for the first time, in Luganda and Shona. You can hear one on DJ Pitch's RA mix actually (which slaps btw).
How do you know when a song is finished?
If I can mix it in with other things!
What is your relationship with Tobago Tracks? What makes the label a perfect home for your records?
It was actually thanks to Endgame, he introduced me to Rob (DJ Pitch). It also sort of clicked because Rob did his album on Edited Arts [large up Joe and Eliza!] where I had my debut as well. Honestly it's been such a breeze working with TT, they've had me on NTS, we played together at Four Quarters last week, they were super receptive to printing and selling the comic with Miranda, it's all happened so smoothly.
What do you hope people take away from this album?
oo I have no idea really, I hope they enjoy reading the comic and the score, and that the whole thing stays with them and it's not too hard to mix.
'le jeu du stop' by dj meddle will be released on the 24th September via Tobago Tracks – pre-order here.