Pedro Vian has never been one to shy away from his emotions, his second album – the self-titled Pedro Vian, continues this exploration of the Amsterdam-based artist's innermost thoughts and feelings. "I have to be sincere, transparent and pure" he affirms while talking about the LP, "During the recording process I have avoided artificiality. I do like the overproduction of music. I like naturalness and the essence of the beat of instruments." The result is an ambient delectation: communicating a deep sense of hope, anger and peace through meticulous and melancholic ambience. 
Though admittedly the Barcelona native doesn't always look inward for his inspirations. Having held a lifelong fascination with the parallels between architecture, ahead of the release of his 2016 debut Beautiful Things You Left Us For Memories, Vian held a residency at Barcelona Museum of Contemporary Arts (MACBA) studying analogies between music and buildings. 
[soundcloud url="https://api.soundcloud.com/tracks/543357870″ params="color=#ff5500&auto_play=false&hide_related=false&show_comments=true&show_user=true&show_reposts=false&show_teaser=true&visual=true" width="100%" height="300″ iframe="true" /]
We sat down with the Modern Obsure Music boss to talk about his new album, buildings and finding inspiration in the everyday:
Your new album (Pedro Vian) is deeply personal – can you talk us through the process of creating it?
The making of the album was a really long process, all the tracks were recorded between 2014 to 2018. Four years in which I went through really different moments in my life. The most difficult process was the selection of those moments to construct a perfect dialogue. Finding the right cover art to represent the music the LP contained was also hard work but I was lucky and met Sergi Barnils Basomba, a Catalan painter whose body of work is literally based in translating music into painting.
You are based in Amsterdam, what is it about the city that allows you to flourish?
Yes, I moved here last October. I wanted to get away from Barcelona to be able to concentrate more on music and what I really wanted to do. Amsterdam is a multicultural city where you can find a huge cultural offer; It's full of museums, great exhibitions, amazing record stores and has a strong clubbing scene as well so everything I needed to nurture my inspiration.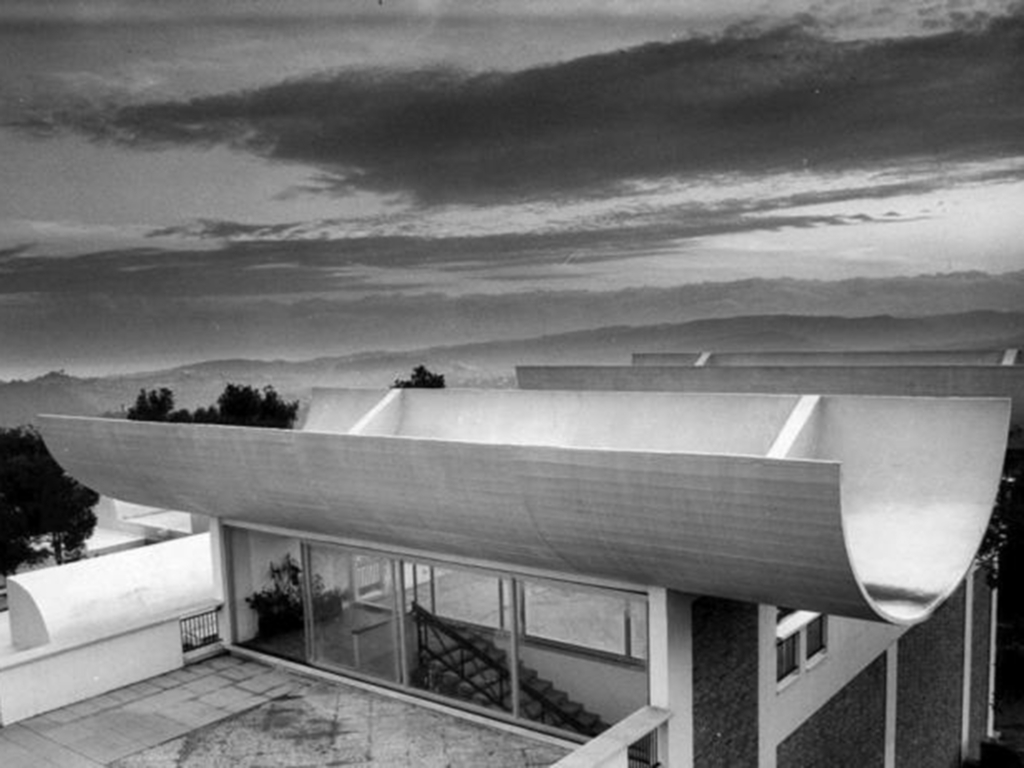 How has the cityscape of Amsterdam inspired your music?
With its calm. If you are not in the city centre what you'll find is green and calm. I live near Westpark, a really big urban park where I spend some mornings walking around big threes, Amsterdam for me is a quiet city compared to Barcelona which for me was more stressful. I was living in the city centre and it was full of tourists and I was surrounded by noise. I feel better in Amsterdam, I think it has a healthier environment. I have to say I really miss the sea though.
You have previously explored parallels between architecture and music – could you tell us more about that?
Yes, I did an investigation residency at MACBA (Museum of Contemporary Art from Barcelona). I started to study the parallelism between arts in general, but then I focussed my attention on the similarities between Music and Architecture. During the investigation, I had the pleasure to be supported by Laurie Spiegel and MACBA's library team. My main objective was to find a way to translate a building into a composition. During the study process, I discovered a few ways to do it, three to be exact but it would be hard to summarize them just in a few lines. What I can say is that it was really interesting and important to study the work of architects like Le Corbusier and Iannis Xenakis and the work of John Cage, John Baldessari among others to find them.
You channelled a lot of this into your MACBA residency, was that experience rewarding?
Definitely. It's been one of the best experiences of my life. I am always fighting for electronic music to have a bigger role or visibility within contemporary art. I'm really proud of the end result of my investigation and as of now, I am still looking for an institution that can support and finance bringing this investigation to reality. For now, everything is written but is not put into practice.
What buildings in particular – or structures – have inspired your new music?
I studied more the parallelism between mass and noise, space and silence so I didn't produce any of my songs while being inspired by a particular building or structure actually. When I make music I try to improvise and be totally free. What I can say though is that this project started by my fascination for a building designed by the architect Josep Lluís Sert which is the "Fundació Jaon Miró", one of my favourite spaces and places in Barcelona. The study of this building took me later on to the south of France, where I discovered another building designed by Sert called the "Maeght Foundation" which has become another favourite of mine.
Where is somewhere that you feel inspired?
Inspiration comes while working so I would say anywhere, to be honest. I made music in many different places, from public spaces like an airport, surrounded by people and noise (with my headphones obviously) to parks in front of the threes, in the middle of an Island or at home in front of a white wall. The place where you are making music has a really big impact on the outcome, and that is is really interesting.
Why do you think architecture and music are so intertwined?
Both are artistic expressions of the human and I think every single thing is connected. With music, we generate ambiences and so does architecture for example.
'Pedro Vian' by Pedro Vian is out now via Modern Obscure Music – buy here.