Year after year, we as rave mongering Londoners flood to the local greenery to gun lagers, sloink doinks and wrap our pretty little heads around what is arguably some of the more carefully curated, pulse-raising festival programming in Europe. Junction 2 might not be considered a big daddy in 2019 yet, but it's doing something right. As the festival transcends into its fourth edition, it's clear to see that the minds behind J2 have played to their previous successes in maintaining a heavily music driven line up, a killer choice of grub and… it's under a bridge.
At 909 we refuse to miss a beat, from 11am we caught the express line, calling all tinnies and Boston Manor Park. We'd been googling the weather 3 weeks prior to this in sheer anticipation that it wouldn't be shite, but it was shite (to begin with). From previous years we'd experienced it felt considerably bigger, with the addition of an extra stage creeping in against the wild forest littered space that cradles the motorway.
We headed initially to the bridge, where it became apparent that Batu had received some jiggery-pokery with his set location (an early sound blunder at the Warehouse) which led to chunky, explicitly angry sounds storming the airwaves. Following that, Dutch dreamboat Job Jobse took the reigns in an unlikely barrage of four-to-the-floor weapons however, with bizarrely dull sound at the front of the stage, it left a lot be desired in terms of easing your way into the day.
Heading into the forest clearing for some uk focused frivolity, Rroxymore effortlesly chunked a sluggy boi into a joy-enhancing UKG vocal banger, that instantaneously prompted the disgustingly busy crowd to holler and shuffle. I must admit for arguably the 'main attraction' in terms of programming, they had completely underestimated the capacity of the space. Four point sound system win, inability to move within the confines of the forest, LOSS.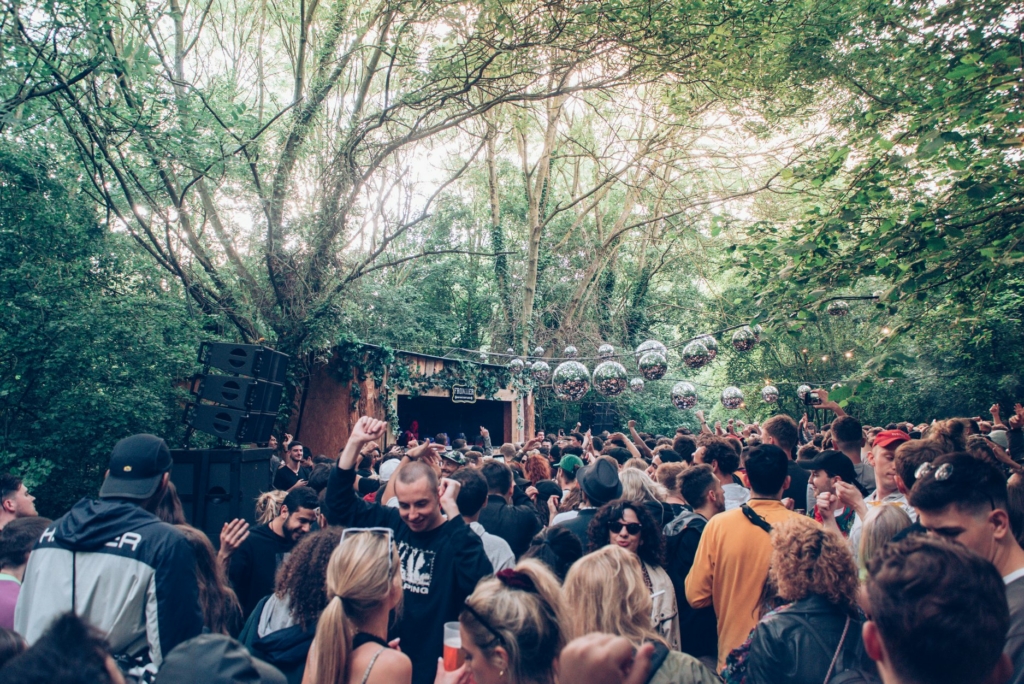 The Warehouse had since been incapacitated from sound worries but it was finally time to indulge in two of Discwoman's finest stars. Volvox and Umfang had taken centre stage in the moody, oxygen ridden tent and we were raging for more. Volvox steps up to tease in a hypnotic belter that encapsulated even the headsiest of heads. Just as we felt at one with the doof, a calamitous silence blankets the crowd, cheers erupt. A few moments go by and PHWOAR, kicks are enhanced tenfold, the greedy ravers lose tension and fling at a rate never seen before by man. The sound is once again lost. This continued for another 20 minutes and we lost faith. Not in the kickass DJ's, but the team that allow this one particular stage to fail year after year. 
We risked our lives once more to endure the close knit forage for Call Super and Shanti Celeste, if you've never had the chance to experience either in their own right I would suggest you do so. Together they're an entire entity beyond many other DJ couplings, blending 00's UKG, piano laden house and classic breaks that would have yer da' cutting a rug. Inevitably it got Sergio Ramos and we made our way back to the main stage.
On the horizon, we see a handsome gentleman, chuffing a cigarette, cueing up some disco. Jeremy Underground had steamed to the booth for what was to be an hour and a half of naive smiles and cuddles from all in attendance. Junction 2 had proved, if nothing else, that it knows how to cater for the (admittedly) intermittent sunshine, fun loving punters and its surrounding greenery. Whilst the festival has outgrown itself, attracted uninterested crowds and kept up persistent sound issues, they cannot be held shunned for a number of stupidly important factors. Their queues entering the festival are virtually non-existent in comparison to neighbouring London festivals, nor do they enforce hefty queues at toilets and bars. The sound is hit and miss but for the most part, it rivals any London festival experience.