There's a new wave of exciting energy at the forefront of the underground techno scene. Pummelling, high-powered performances teamed with progressive ideas and a community-minded attitude serve as the backdrop for fast BPMs and heartbeats to dance in tandem until well past sunrise. Contributing to this refreshing landscape is Berlin-based Polish producer Martyna Maja aka VTSS, whose high-octane live sets and fusion of techno, EBM and industrial elements has been making waves across some of Europe's most exciting club nights. With her long-standing residency at Warsaw's forward-thinking Brutaż and Jasna 1 parties, it's evident the spirit of these communities and the city as a whole have played a strong part in shaping her bold approach to production and performance. Having recently transferred this energy to recording, VTSS presents her razor-sharp debut EP 'Self Will' on fellow rising talent SPFDJ's brand new label Intrepid Skin – an undoubtedly perfect pairing. Now part of Discwoman's booking roster and with an impressive EP and stream of gigs behind and ahead of her, we spoke to VTSS about her musical origins, her debut record and the influence of her hometown.
Tell us how your musical journey began – Is music something you were always interested in pursuing?
Saying 'I've been always interested in music' is such a cliche but it was a bit like that. In high school I attended a music school and was singing jazz and pop. I was planning to switch to producing because I wanted to make music for other people, but before that happened I was kicked out of this school due to an untreatable throat condition that left me unable to perform at any level as a singer. So I kind of quit performing for a while and got more and more involved with club music. After high school I started law studies and a year after that economics but after two years of doing that I quit to become a DJ, so basically every parent's nightmare. I started studying sound engineering and producing music and started DJing soon after and then began playing live.
What would you say has had the biggest influence on shaping your sound? Is there a specific time period in music that you draw inspiration from or is it more related to emotions and instinct?
Obviously listening to music had and still has a huge influence on whatever I'm doing, however music for me is an outlet for emotions. I think I'm shaped the most by my hometown Warsaw and Poland as a whole, which culturally sits somewhere in between Eastern and Western European culture and that has a big impact on every artist from that region. For me Poland is not the happiest place and more intense club music has always been a way for me to forget the anger or the run away from the sadness.
You recently released your debut record 'Self Will' on SPFDJ's new label Intrepid Skin. She seems to also be a good friend of yours, what was it like working with her on this and how did the release come about?
Lina and I met a couple of years back at her first out of town gig in Warsaw. She was playing Brutaż, a party hosted by Jacek aka RRRKRTA, where I'm a resident. We instantly fell in love with each other, our approaches to club music and musical taste. Exactly a year ago I had to back out from the release I was planning and was trying to figure out what to do with this material. Long story short, Lina said she was starting a label and that it would be her honour to open the label with this material. It took exactly a year to get it out, but we're really happy with the result. I loved working with Lina, she totally gets my music and what I'm about in general. We both trust each other a lot and getting to work on my first EP with a vision that close to me, was a dream come true. From the start we bonded over our really similar taste in electronic music so we didn't come across many obstacles, at least not between us.
What was the production process like with 'Self Will' and how do you approach crafting new tracks in general?
To be completely honest, I barely remember making these tracks as it was so long ago. I remember it took me a while to make them, much longer than it takes me to make music now. I've been making music for a while and finishing many tracks, but with these I felt like I was finally ready to get something out that I wouldn't be ashamed of in a year or two. Right now my music making process is a bit complicated. I consider myself a live performer first, then a DJ and then a producer. When I actually have to make tracks for releases – which truth be told is not my favourite activity – I take it from a recent live act, record stuff and put it together in Ableton. It's a bit challenging for me to make a track from scratch in Ableton just for release purposes, so usually I create a new live set and use that as a starting point for projects to turn into tracks.
Do you prefer using software or hardware with your productions?
It's always been both. I use hardware during my live performances, but I was definitely never a gear freak. I just use it because it's way more comfortable for me to perform using these specific devices and using both of my hands instead of mapping stuff in Ableton which seems way too confusing to me. But I also love Ableton and feel fine in that environment. For my productions I mix everything in Ableton. I also use Reaktor a lot these days as well as some hardware synths, drum machines and shitty pedal effects.
The artwork and title behind your record are quite provoking. What was the inspiration behind both?
The artwork is Lina's leg after an encounter with some club speakers setting up the sound system somewhere I believe. Aside from music taste we also share similar aesthetics when it comes visual things, I find this cover so beautiful. The other she and I share is a spirit. It's this kind of spirit of self will.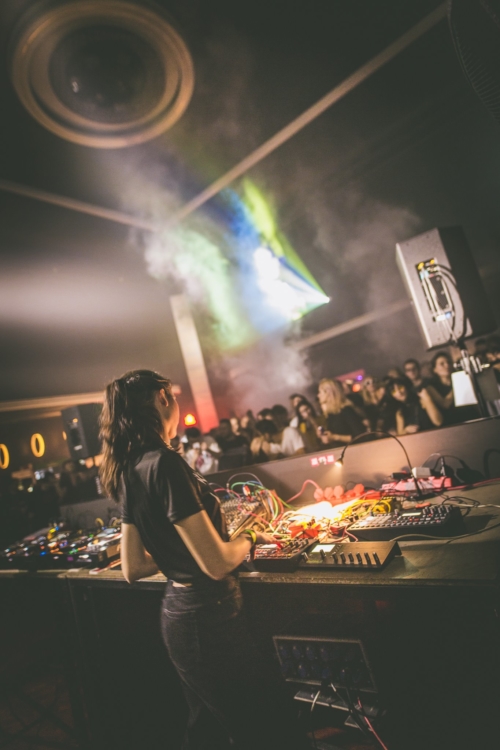 You've played at some pretty amazing events and venues over the past year and much has been said about your high energy live sets. Can you tell us what your live setup consists of and what your aim is with each show?
After my luggage being lost so many times by airlines my biggest concern lately is for my setup to be cabin luggage friendly. At the moment I'm travelling with an old Ocatrack which is the core of my performance, an old Analog Rytm, Waldorf Pulse 2, Mopho/Electribe 2 and a couple of pedal effects. You can often hear (and feel) that live sets are usually more 'artistic', but less fun than DJ sets. I really aim for mine to be fun as fuck. I don't want it to be steady, I don't want people to be in a trance or to feel hypnotized. I like changing tempos, changing styles, making longer breakdowns and surprising the crowd. I also like it rough.
As you mentioned, you're involved with the Brutaż crew – How did that come about and what is it you love about your local scene that you think sets it apart from other more traditionally club-oriented cities?
I think Warsaw's scene – as well as other bigger cities in Poland – can be quite forward-thinking when it comes to experiments, setting trends and discovering new styles and genres. There are so many young visionary artists and crews around the country working on the local scene. The main enemy is economics and the culture being way underfunded, but also the society not being able to afford to spend money on the club scene. More and more international artists and booking agents are aware of this and waive the fees a bit, but local artists are still paid incredibly poorly which makes living off music basically impossible and leaves little time available for artists to spend on their art. However what makes this scene so vital is the focus on smaller venues, local artists and crews. I feel like Hailing from Brutaż made my approach to techno and club music way more adventurous and not so binary.
You've recently made the move from Poland to Berlin. How has this transition been and has this affected your creative workflow at all?
It wasn't that much of a transition for me because before the move I'd come here every few weeks and already knew some great people here. Warsaw is also so close and the train or EasyJet tickets are only £40 so I can be back home really quickly. I'm also a resident of a club in Warsaw called Jasna 1 and try to come back for gigs there every couple of months. I was kind of never alone in my life and for now this loneliness has been quite healing for me and for my music. I might be a bit less effective for now, but I think everything's going the right way.
What music are you vibing at the moment?
My favourite smaller labels at the moment are FTP and all the other crazy shit Textasy is involved with, HAVEN and I'm also obsessed with the last bbbbbb releases, TRTLNCK, Fleisch, Casual Gabberz, DUNNO RECORDINGS and of course Brutaż (the label).
2018 was a big year for you, what are you looking forward to this year and are there any upcoming releases or shows that we should be getting excited about?
Yes, 2019 looks promising! SPFDJ and I are having a little tour throughout February and March including gigs in Zurich (KAUZ), St Petersburg (RAF25) and Berlin (Saule, Berghain) to showcase our little Intrepid Skin experience.
The first release this year will come in March/April, then the next one probably in May with some other stuff to follow in the second half of the year as well. And for now on the 8th of February the new HAVEN release will be out with a remix of mine by Body Beat Ritual.
Self Will by VTSS is out now on Intrepid Skin – buy here and VTSS will also be playing alongside Overmono, Jensen Interceptor, 1800HaightStreet and Andy Garvey at Corsica Studios on the 2nd of February – buy tickets here.