Formed in the days of blog house, Stephen Hindman and Penelope Trappes have been releasing music under their The Golden Filter alias for over 10 years now. With their debut record 'Solid Gold' influenced by Italo and the CDs gifted to them by Josh Cheon of Dark Entries, the duo have gone on to release music across the board covering the likes of new wave and post-punk. Releasing their first album 'Voluspa' in 2010 on Brille Records, their back catalogue includes an Unselected Works series on The Vinyl Factory, Still // Alone LP on Optimo Music and a string of EPs such as 'End Of Times', 'Dub Of Times' and the more recent 'Dislocation' EP – out earlier this month. The record was released on their new label 4GN3S – a platform where they aim to put out free-flowing, genre-bending spectrums of analog electronic music. Kicking off the label with 'Talk Talk Talk' last summer, it fast became one of the hit records of the season with heavy support from the likes of Jennifer Cardini, Hunee, Job Jobse, Moxie and Ben UFO. Followed by three remixes, the record now features on 'Dislocation'. We catch up with Stephen and Penelope to discuss finding your sound, the decision to reveal their identities, The Golden Filter's visual identity and how their rave era influenced them. 
When did you know that music was going to be a big part of your life?
Stephen: I think I knew really early. I was going to punk shows with my older brother at 12 years old and making little demos on casios by the time I was 15. I guess maybe cause my brother had instruments lying around, when I listened to music, I always thought I could do it too… but I never trained in anything formally. I went to art school so I wouldn't get burnt out on music, and then made Drum & Bass in my 20s, before meeting Penelope.
Penelope: Since I was very little, performing has always been my thing school musicals and things like that… then I studied Opera… And later on Jazz vocals… I always knew music would be part of my life. Turning to composition and production as well as performing was like discovering a new universe within.
As The Golden Filter, you made your first full-length debut 9 years ago with 'Voluspa'. How do you feel the project has grown and changed over the years?  
Penelope: The project has grown through the many journeys it has taken since 2009. I think the biggest trigger to our metamorphosis over the years was a growing self-confidence and maturity in our outlook. Complete confidence in what we do as a team and trusting our instincts. Now we are more creatively free and not at all bogged down by industry perceptions.
Stephen: I think we have become more fearless. With Voluspa, we had a ton of expectations that the whole album would live up to everyone's expectations after hearing Solid Gold… and I think it probably could have been a really cool record, but a few things happened. 
A pretty good label said they wanted to put out the record as it was – in demo form. We were pretty happy about that. But then they got bought out by Universal, and it just didn't happen. So we were advised to go back and polish all of the demos up and make them sound more "produced". We did that ourselves, but it kind of made everything sound more safe, and samey, whereas originally, they were a bit low fi, rough, and original sounding.
Because of this, we weren't particularly happy with how that album went down, so for our next record we co-directed a short film and soundtracked it just to get away from pop music. We wrote a 2nd full-length, had a producer help with it, and we ended up scrapping the whole album. So we swore off using outside production help ever again. Then we released 3 volumes of demos called Unselected Works as basically a purge of all of the demos that we abandoned, then moved to the UK, disentangled from the industry side of things completely, and started making music for ourselves, not really thinking about how we'll make money or live, and we're still on that path today. There was a track we did in 2012 called "Quiet Town" that was the first time we released something without worrying about labels or what anyone else thought. Its kind of a transition point from writing music while thinking about what others expected, into just doing what we felt like doing and letting ourselves be influenced by the music we listen to.
You've both been in the industry for over a decade now, did you find it difficult to find your voice/sound at the beginning? 
Stephen: We kind of feel like we never really became part of the "industry". We never got signed in the US, and have been on a few labels in the UK, but after Voluspa, it's all been 50/50 deals with labels we love or are friends with. All the better, as I think that's probably the only reason we didn't get disillusioned with music and quit.
Penelope: Well I would say we have skirted around the edges of the industry, dipping in and out, and learning all about it from observation. In so doing we learned how to run our own show and take good care of the project – creatively and within the music world.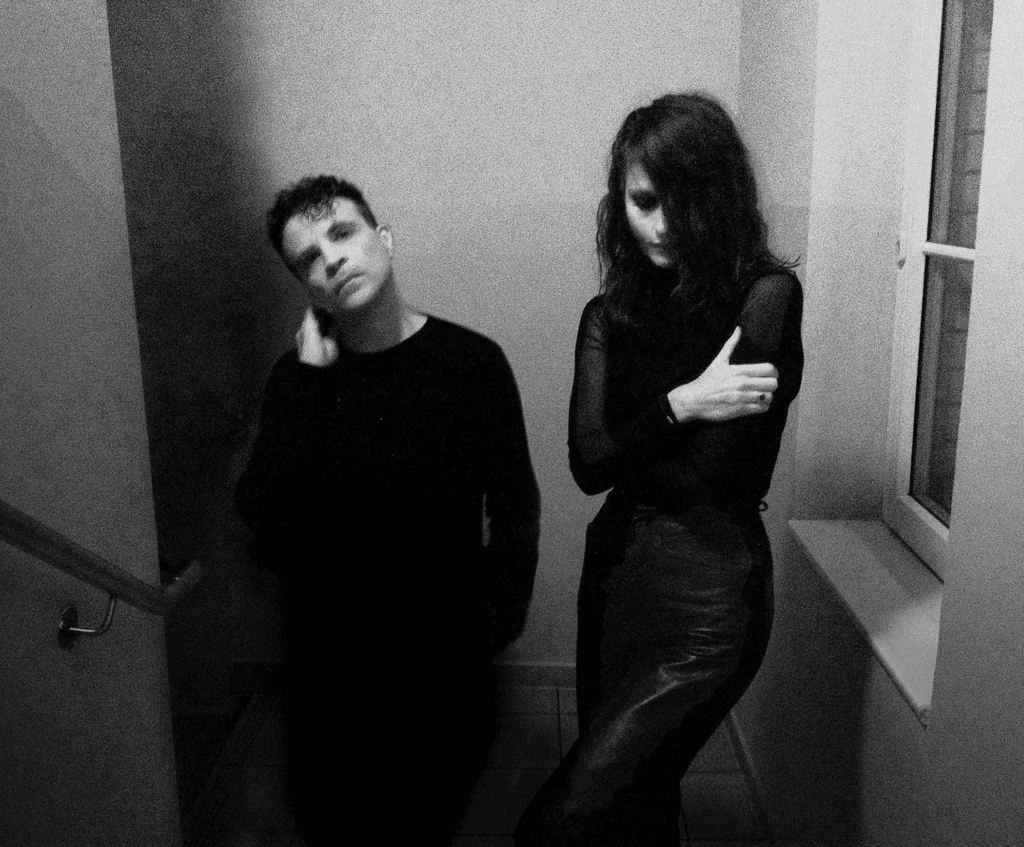 You also started the project as two mysterious figures, do you feel that it was the right decision to make your identities known? Or do you sometimes wish you could still be hidden? 
Stephen: It was the blog house era, where it was easier to get press with a good track… we truly, and maybe naively, believed that all you needed was good music and a way to get it heard, but times change, and now it's equally about the personality making the music. We had the New York Times and Paper calling us wanting to take photos of us, and we always said no. I don't feel like it was the wrong decision, but perhaps, in the end, people were probably a little bit let down that we maybe weren't what they thought we were in their heads. As for if we could still be hidden, we have a few side projects out there in the world where we can still make music anonymously…
Penelope: Yeah being unknown identities in 2009 perhaps kept a few doors shut for us, but in the long run I think this was for the best.  It allowed us to hold on to our own creative control which has guided us over the past ten years. Personally, I am totally comfortable these days with being known. I have nothing to hide and personally feel much more liberated by the honesty.
For The Golden Filter visual aesthetic, you've gone through many themes over the years — what would you say your theme is for 2019?
Penelope: Yeah, visuals are something that is inspired by the tone of the recordings and the time when they were recorded. The changes of image and style over ten years are to be inevitable. Things change and evolve. Currently, we are in this darker minimal wave zone…  a place that hopefully pays homage to our heroes and heroines of our childhoods whilst making something new out of it. Always lathered with some kind of dystopian measure… 
Stephen: I don't really think about themes anymore, though we do try to create visuals that seem like we will still like in 10 years.  We make all our own cover art, take our own photos, make our own videos, and really just do what comes, which is usually a product of our music and out surroundings. 
You've previously said that your music is about having fun and escapism – what is the ideal environment to listen to your new 'Dislocation' EP?  
Stephen: ah yes. That Loud and Quiet interview… our first interview ever. We were talking about the name "The Golden Filter" being about escapism, but not sure how it got a bit twisted. We intended it to be more dystopian escapism more than about fun. Like… always looking through rose coloured glasses, you'll never see the reality underneath. We were having fun doing that interview, so maybe it all felt like jokes. We were a new couple having fun making music together that people seemed to like. Ever since 2010, we've never really thought very positive about, politics, which have become impossible to ignore, and we increasingly feel like we don't really belong anywhere in the world. Dislocation is mostly about not fitting in anywhere. We're ok with that because we have to be, but really, we're just two DIY artists that don't live in our home countries, which means we're not near family, nor most of our friends.
Penelope: Haha yeah 'fun' was never really within the songs. We always seem to get a bit more serious in sound and story. Dystopian thoughts have permeated everything we have done. Feelings of not giving up, and holding onto hope in a world that is essentially a bit mad. Ideal listening environment?  A dark corner in your house where no one can bother you and you can sing and dance along. Go into the zone. Maybe light some candles, burn some sage, and clear away the madness of the world. Cast a spell upon yourself where you can rise beyond the material madness, and dance it all out.
The single 'Dislocation' is described as part art-piece, part word association and part No Wave experimentalism and is the shortest record on the EP – where did the idea for this track come from? 
Penelope: To take words and a play on these words and bluntly put them in the listener's face and to force the brutal emotional truth that they bring to mind. In an aural sense, it should trigger you to fight with these feelings of fear that come to the surface when you hear the words thrown at you. 
Your productions are a melting pot of different sounds, where do you look for inspiration? 
Stephen: We used to try really hard to be as original as we could be, but then it always ended up sounding like someone we never heard of before, so now we really just accept being influenced by the music we listened to when we were younger, or music we listen to now. And just create things. But we do have the occasional dip into an 80s youtube hole for inspiration. 
How do you find time for your creative work as Golden Filter? 
Stephen: We do music full time, and our studios are at home, so we do have time to be creative… but our projects are multiplying a bit which just means switching focus between projects becomes slightly harder… but we don't really go out all that much. 
Penelope: The only real distraction from working on music is preparing for live shows, rehearsing and touring. Otherwise, we are pretty obsessive in what we do, for better or for worse. Our songs are like our children, they are all-encompassing and full of love.
You're both into film and photography, what are your niches within those fields? Can you guide us through some of your favourite photographers/films? 
Penelope: Francesca Woodman, Lynch, Cindi Sherman.
Stephen: Synchrodogs, Kubrick, Lars von Trier. It's hard to identify a niche, exactly. I just kind of like things that seem new. Or that at least seemed new and exciting and odd for their time.
In your rave phases, what sort of parties would you be attending? Do you ever dip into that world now? 
Stephen:
I was living in Columbus, Ohio where Detroit techno was ruling all of the raves… people like Carl Craig and Paul Johnson were staying in my apartment because my housemate, Todd Sines, was signed to Planet E records… But I was trying to be original, and I was making drum & bass, and releasing records on Jungle Sky records in New York City, with ties to Suburban Base and S.O.U.R.. I did go to a lot of raves, and at the first one I went to ever, Cybotron played live…. but I was also DJ-ing and playing live at them more than just going as a fan, and I kind of carried that on up until now…we mostly only go to raves nowadays if we're playing at it.
Penelope: I wasn't a big rave kid myself, but there were two that I adored and remember clearly. One was in an abandoned old cinema and another in a warehouse somewhere in an industrial part of London…. I had no idea where I was, as I had just moved to London from Australia the first time – before living in NYC.
What kind of impact did those rave days have on your sound and artistry?
Penelope: Showed me the power of mass gatherings with only one purpose – to let yourself go.
Stephen: It definitely showed the power of community, and the beauty of a ton of like-minded people in a massive space together.  I think, also it gave me an understanding of how to make music to dance to… and a better understanding of the power of music.
Moving away from the past, what does the future of The Golden Filter look like? 
Stephen: Well. We are just continuing in all of our directions we want to go. Penelope is going full steam with her This Mortal Coil influenced solo side project, to the point that it's kind of become her main project, but we won't stop doing The Golden Filter. We've given it 10 years and we feel like we're still gaining fans and developing as songwriters… We're supporting Sharon Van Etten on her UK and European tour which we're super excited about it and hopefully can keep making new fans in the world while staying entirely DIY and semi-detached from the music industry. Our ethos is just to work with nice people and our friends, so we intend to keep doing that.
Penelope: The Golden Filter has become my familiar, happy place that I know so well, a place where I get to embrace a more outwardly energetic part of myself. I love working as a duo too, especially as we both know each other so well, we have total freedom and often can read each other's minds, so the creative process is liberating, inspiring and kinda crazy. I am not sure we will ever stop working together. This is our baby. However, my solo work which is more ethereal and quiet is where, moving forward, I intend to focus my personal introspective artistic creativity.  I think it's good to have multiple streams of creativity.
'Dislocation' EP by The Golden Filter is out now via 4GN3S – buy here.