Nina Kraviz's Трип label has become known for its adventurous experimental releases – unlike anything else you hear. Nina has a skill for scouting innovative talent in unlikely corners of the world, helping bring attention to scenes in Russia and Iceland. One of those artists is PTU who first featured on Nina's label in 2016 on the 'When I Was 14' compilation and has since contributed to two more compilations, a stand-alone EP and now their debut album 'Am I Who I Am' – a journey through their cyberpunk influences. The duo explore the weirder side of techno throughout the 12-track collection, making sure that they achieve something new and different with every release.  
Releasing 'Am I Who I Am' in June, we speak to PTU about the challenges of continually striving to produce something completely different, the story behind their cyberpunk and futuristic influences and the method behind their production process. 
What were your earliest experiences with music? Was it something you grew up with or did you take an interest at a later age?
A.: I entered music school to study violin at 6 years old, which began a long relationship with music. From curiosity to rejection, and then from understanding of my identity to conscious understanding that music is what I really need. During my teenage years I performed classical works at music school and listened to the absolute opposite alone with myself. Interest in music and in creativity was natural. I wanted to know things very few people knew in my environment, and I wanted to be involved in it, I wanted to create. Closer to the age of twenty this desire only increased. 
K.: I was born in the family of a lawyer and a musical teacher so music surrounded me since early childhood. At home there was a piano and, before I went to music school I liked to uncover it and to explore how it worked. My grandmother bought me a simple Faemi synthesizer and, perhaps, that was the beginning of my acquaintance with electronic music. 
How has your heritage formed your sense of self – as a person and artist?
A.: I think if you were to ask this question every five years, the answer would change. Before answering the question I would like to ask whether our experience influences us or we influence our experience that consists of our acts, and our acts arise from our choices that we make, based on those qualities that we initially had? And after that we look at what we did and think "This is my wealth, it will teach me something!" Seriously though, it is difficult to me to divide the experience, the personality and the artist in myself. You perceive the world to create music with a specific attitude, but during creating, you also learn something about yourself, and, as a result, there are more and more questions you wish you had answers to.
K.: Thanks to the fact that my grandmother was a poet there were people in my life who engaged themselves with art and creativity. When I was just a baby I spent a lot of time on radio, television, in theater. Also it was not difficult to notice that creative people were a little different from the others. That belonging to creativity and art filled my life with additional sense – I guess, I stopped being just an inhabitant. 
Alina, you mentioned in the RA feature that you feel at home onstage – what is it about being on that platform makes you feel most comfortable?
A.: This is my personal revelation. It is not connected with lack of fear or its presence. It is possible to worry, sometimes it is possible even to be afraid of the stage, but when you appear there, everything falls into place. It is like a certain angle from which you look at the world. 
My friends celebrated their wedding, it was in a small night club. When the bride threw a bouquet, I caught it and it caused a big fuss among girls because I had already been married. For some reason it did not come to my mind to give the flowers back to the bride so she could throw it once again, I decided that I had to show responsibility (since the bouquet was already mine haha!) and throw it myself. And when I got on stage to throw a bouquet there was a wordless thought "At last I am here!" and everything became so right. Later, when I was thinking of it, I, of course, realized that this feeling had been there before.
What's the meaning behind the title 'Am I Who I Am'? 
K.: What will remain if we get rid of attitudes and norms instilled by society, if we are deprived of technology, ideology and historical experience? Will it be the same person we used to know?
A.: First of all, it is a question. It is good to ask yourself this question at least sometimes, without pressure. It is extremely important to understand what everything actually is. And I got a feeling that if we looked for the answer more often, without taking everything too personally, we would make better choices more often in terms of practical benefits. 
The album is inspired by cyberpunk and evoking a post-human world with machines continue to exist long after humans are gone. Where did this idea come from? Where does the fascination with the futuristic come from?
K.: This is our common love for post-apocalypse as a genre. Let's suppose that if there is a pandemic and mankind dies from infection, a lot of devices will continue to work for some time more. For example, the game Portal tells about such a world. People died but somewhere, for quite some time, red automatic diodes still flash.
A.: I think the desire to write such an album grew gradually and naturally. Electronic music and cyberpunk are very close. Engineering, technology, producibility, electronics, computers, memory cards, chips, artificial intelligence. When you make a sound with a metallic nuance and chaotic LFO, imagination delivers a cold gloomy atmosphere of cyberpunk. I think there are more albums in the cyber punk genre than you might think. There is possibly 50% techno, maybe more. I like cyber punk, I wish there were more works in this genre: in literature, in movies, in music. But that requires fresh stories and plots. This is not easy to do as the genre has very exact features that eventually act as its limitation.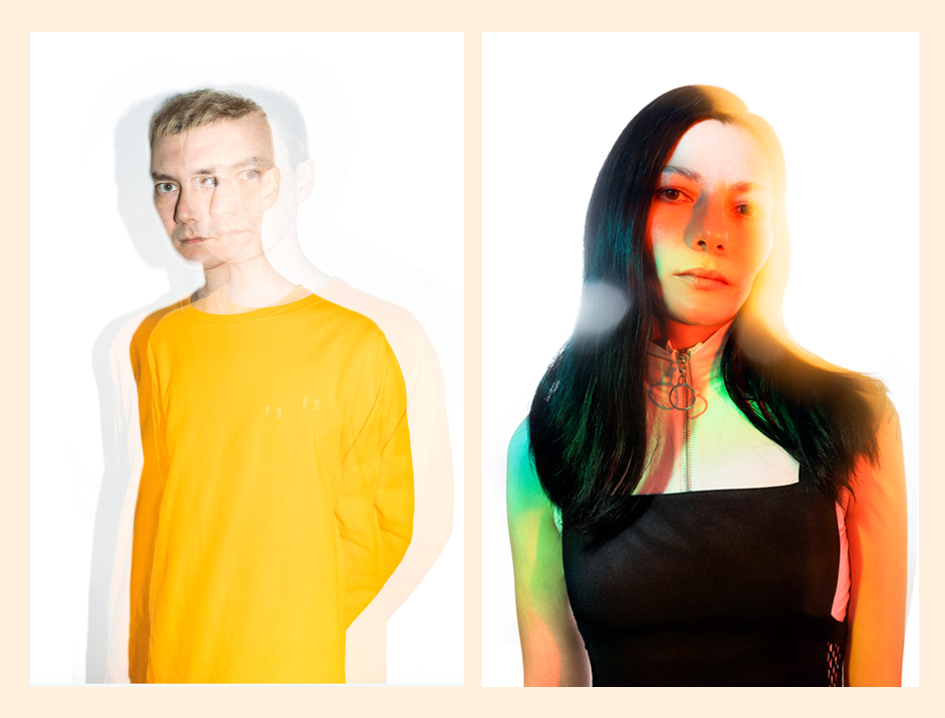 Do you have a method when it comes to producing an album? Is there a concept in mind before you enter the production stage or is it improvised and see where you end up?
K.: This album is the tracks we made for our live programs. We only play live music, only our own, and this puts us in the condition of constantly updating the material. We need to create something new to stop playing a weary track.
A.: That depends. In most cases we understood what was going on in the process of creating albums. But AIWIA came out from an inner feeling that we wanted to put into reality. In other words, there was a picture of the world, and then there was an attempt to tell a story about it. 
Is your process more inspired by research or relationships?
K.: Do other people influence our work? They do for me. I'm not always able to take my ego away at the right time. But what inspires me the most is the music itself, the endless possibilities of art. That means research.
A.: I think research, first of all. 
When it comes to producing you prefer to work on samples separately and then come together at the end – why is this your preferred way of working?
A.: There are many reasons for that. First of all, we have improvised a lot before and we have enough of impressions. All our projects started with improvisations. Secondly, we have different paces, different attitudes to discipline, to the search process, etc. we cannot be the same. Thirdly, we spend 24 hours a day together, we do not just have common interests or topics for conversation, we have all aspects of life intertwined, so the divided creative process is not felt as a division. I hear what Kamil is doing, and I can always get involved in his process. He listens in on me too, haha! Fourthly, since we were younger and improvisation was just a part of spending time with friends, a lot has changed, the pace of music production has changed. You don't just have to compose quickly, you have to have a lot of qualities in the music: interesting sound, content, and character. This requires a calm, concentrated immersion in the process. 
K.: Imagine two sculptors working on a small object. Most likely, they will work in turns, giving each other the opportunity to express their thoughts. 
What draws you to the weird and wonderful side of electronic music?
K.: No rules.
A.: Electronic music has a lot of possibilities for creating new sound, new texture and a lot of space for fantasy. I'm really looking forward to see a new technology to appear and create some really new instruments. 
What's the biggest lesson you've taken away from producing this album?
A.: I don't think I've learned any lesson. I may have been a bad student, a D student.
K.: It's probably too early to talk about it. I think that we have yet to get this main lesson. 
As you continually strive to produce something completely different to what has already been done before do you ever hit a wall where you're stuck trying to think of an alternative way to do it? If so, what's your method of pushing past the wall?
K.: We get stuck quite often, it is important to understand that this is absolutely normal. If you're stuck, you have to give it up and start something new, you have to give that something new a chance to show up. Lightness is natural for the best one, it's a special quality, and it's not just a matter of mastery of your instrument, it is luck. And luck should be given an opportunity to happen. 
A.: Yes, of course, I often hit a wall. In such a process as the search for something fresh, it is inevitable, it's a part of everyday work, I would say. It's as if you're trying to get new skills that you've never seen before and to express them in a way that you can understand. And often, you don't know exactly how it should be, you only know the impression, the atmosphere, the micro plot and the character of the sound that the track has to make. If you look carefully at yourself and the process, you find out that the catatonia is formed because of the lack of experience to implement the task that you have set yourself. That is, intuitively, you already know what you need to do, but you do not know how to do it. The second one follows from the first one – time. You have to continue to do it, but remember that everything happens correctly. The third is working with an ego, because it is the one that cultivates all doubts. The fourth is that this wall does not exist and never existed. In other words, think about it all that way, leave yourself alone and sit down with the instrument as an already clever and mature person. 
What keeps you motivated and creative?
K.: We make music because we love it very much. It doesn't make sense to do it to make a lot of money or become popular, you can do it only because you love it so much. This is the main motivation. If we decide to "quit it all", we'll probably just start playing other instruments and other music.
A.: Calm and confidence for me are very good ground for creation. Nothing exists in the process, including myself. 
What is your current obsession?
A.: I strive not to be obsessed with anything
K.: And I want to record an ambient album. 
What film have you watched or book have you read in the last year that has left an impact on you?
A.: I don't really like to make ratings. But I can list the latest books I have read. At the same time I read Umberto Eco "Baudolino" and William Faulkner "As I Lay Dying". I liked everything. Now I've started reading Christopher Priest's "Inverted World", I haven't read it before, so I haven't formed any opinion yet. 
Last year, after we decided to link the theme of the album to Cyberpunk, I got into Stanislav Lem's book "The Invincible". In the description it was said only that the spacecraft landed on a deserted planet, where biological life lived only in the ocean, to find out what had happened to the crew of the previous expedition. It turned out to be a classic cyber fiction. One of the main themes of the work is the evolution of robots… on a desert planet. Once upon a time on the planet there were wars between robots and living beings, and later between robots and robots which within millions of years evolved and improved. There are many old-fashioned details in the book, such as rolls of space maps or words such as photographic film, etc., but the evolution of robots is described very futuristically. These are not retro cans, but the real technology of the future. 
'Am I Who I Am' by PTU is out now – buy here.
Photo credit: Jenya Filatova