For the last couple of months I have been longing for sad music. Not necessarily sad in the melody but a longing for melancholy in the lyrics. I guess you could say it's due to the change of seasons and feeling quite lost at the end of the summer. I was hoping to find this in some of the most recent highly-anticipated pop releases but didn't – my friend and I ended up going to try and get our fix at a Barbican exhibition about melancholy but even then it didn't scratch that itch. And whilst Eden Samara's 'Rough Night' is mostly upbeat and vibrant in production, the lyrics are relatable and touch on those real-life experiences of longing, love and loss. Opening with 'Ultimatum', swooning 'I never meant to baby, put pressure on you like that', the self-awareness is already settling in. Out now on Local Action, the album is Eden telling her own coming of age story, showcasing the cycles of losing and finding ourselves again – in her signature playful way. 
Across the eight tracks, the Canadian singer/songwriter brings together a handful of producers to add colour to the album. Working with her longtime collaborator Ryan Pierre on most of the tracks, Eden also enlists Shanti Celeste, Peach, Loraine James, TSVI, Dan Only,  and Jim Junior, with the end result ranging from introspective R&B to freaky club-pop. 
Having made her first appearance on Loraine James' 'Running Like That' released via Hyperdub in 2021, Eden has also collaborated with Parris on his highly-acclaimed debut album 'Soaked In Indigo Moonlight'. Lending her vocals to 'Skater's World' on the album, it was regarded as one of the best tracks of 2021 and was kind of a match-made in heaven since both artists like to push the boundaries of dance music and explore what it means to incorporate pop elements into underground club records. 
With 'Rough Night' out now, we speak to Eden Samara about her early beginnings with creativity, her approach to collaborations and how she chose the producers to work with on the album, being vulnerable within her music and more. 
What initially motivated you to get into music? Is it something you've always imagined yourself working within or were there other plans or goals in mind when you were growing up?
Hey Chanel! No, I never thought I'd pursue being a musician, even though writing music was a big part of my childhood. My goal for many years was actually to be an actor –  I chased that dream until my mid twenties before realizing it didn't fit who I was anymore. I'd become very invested in dance music and club culture specifically, and wanted to be part of it.
Have you always been a creative person? What is your earliest creative memory? 
My parents put me in Waldorf education from the age of 4, so I could paint, knit, sew, read music, and identify species of plants well before I properly learned math. It ended up being an issue when I eventually went into the public school system, haha. But it was very formative to my creative identity. Those are my earliest creative memories.
Your new album 'Rough Night' is about navigating self-discovery – was there anything new you learned about yourself along the way of making this record?
Tons. I think when you get to the end of your twenties you're kind of like 'Ok – now that I'm a fully formed adult – what's not working for me? What are the ways in which I keep getting in the way of myself?' Just a lot of deep habits and ways of being that could use some attention.
You previously mentioned in an interview with Mantissa that all your work has to be personal and have a narrative to it – why is this important to you? 
I guess simply because making art wouldn't matter to me unless those things are part of it.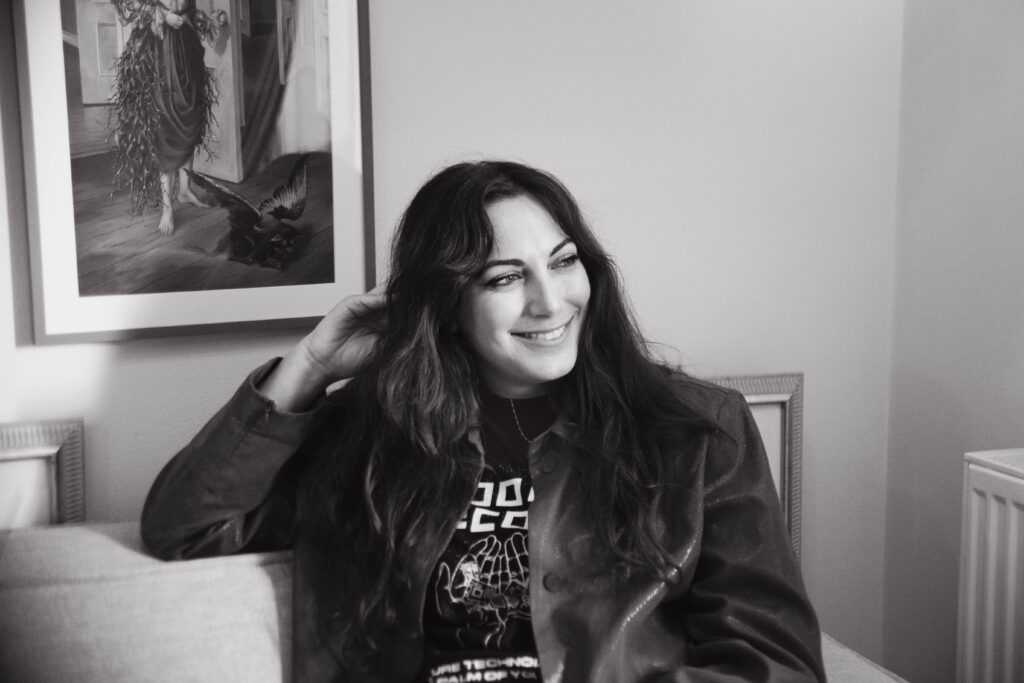 Do you need to be in a specific mood or environment when you're writing?
The priority is feeling safe to express myself. Environment is whatever. I write a lot while I'm in transit, like I'll sing or write ideas to myself while on the subway, or walking or riding my bike. Sometimes that can be even more effective than in a studio, because there's no pressure to have a result at the end of the day.
Have you had to learn to be this open and express yourself via music or is it something that you've always been able to do and comes quite easily?
It's always come easily, music was the first language I used to express emotions. Often it feels like writing in my journal and then putting it to melody, so I don't really know how to not be bluntly expressive about my feelings in my music. I think it's a good thing though, or at least that's the type of art I enjoy most.
When you're creating these stories within your work, do you come up with characters or are you imagining yourself within these narratives?
When I write for other people, it tends to not be me. I wrote something for someone recently that was inspired by an old Cirque du Soleil show called Alegría. When I wrote 'Running Like That', part of it was me imagining what it might be like for Loraine to come out to her mom. Or me to come out to my mom, haha. In my own music it's always me.
What would the story of 'Rough Night' look like?
Learning how to be an adult. Like, wanting to experience love but being emotionally unavailable and everyone has baggage but you just have to figure it out. Also struggling to accept my own queerness and what that looks like for my relationships. And lots of moments of fun and humour in between. The conversation in the Interlude is me accidentally leaving the mic on and us being stoned chatting shit.
What was the process like when making 'Rough Night'? Were there any challenges that you had to overcome? What did you enjoy the most about making this record?
The biggest challenge was me being broke and stressed and working two minimum wage jobs in London. The cost of living compared to how low the salaries are is truly fucked. This left me with barely any time or energy for music, which is why this record took four years to finish. It was a massive relief when some funding from the Canada Arts Council came through. And then Local Action jumped on board. Having friends offer to help co-produce too. Without those things happening, no one would have heard this record. What I enjoyed most was (very slowly) learning more technical skills to help me be more self sufficient as a producer.
Did you have an idea of what you wanted this record to be / sound like before you started working on it?
Sort of? I just knew that I wanted it to feel like an honest representation of me. I'd put out an EP prior that felt the opposite. It was written to try to pitch to publishers or appease the Spotify Gods – which actually kind of worked. But I was very unhappy after with how it felt to have in my discography. Like I'd sold out. So the goal here was to make something authentic to me, regardless of whether it would fit on an editorial playlist. Cause honestly fuck that.
Who or what are some of the key influences and inspirations behind 'Rough Night'?
The track 'Saint' by Dev Hynes was the largest influence for how I wanted the vocals to feel. For the most part, I wanted the vocals to sound almost dry and very organic. Production wise, a ton of stuff ranging from Charli to Daft Punk to Atom TM and Morgan Geist.
Collaboration is at the heart of this album – what did you learn from working with all of these different producers? What do you think they brought to the LP? What do you feel collaboration allows you to do?
Everyone has a different way of working, and different opinions on what they think sounds good. So it's interesting and challenging at times. I really love it. Because collaboration forces you to drop your ego, whether you want to or not. It's like everyone brings their own strengths and 'seasonings' if you will, to the musical soup. For example, I'm total shit at programming drums so I get other people to do that.
How did you go about choosing the artists to work with? Do you need to have a relationship with them first before working together?
Not necessarily, but they usually are friends or acquaintances. It's fun to trade favours back and forth, working on each other's music. Loraine, Dan, Gu, Joe and I all have written or are writing for each other's projects. I'd love to start doing more sessions with people I've never met before though.
Oftentimes singer/songwriters will choose one producer to work with on an entire album, what motivated you to work with a handful of different producers on one project?
Maybe that used to be true, but not anymore. If you look at the full list of credits for 99% of current pop records there's always a bunch of different people who wrote or produced. Goes back to the musical 'soup' thing. I just find it more fun and my friends are sick producers, so why wouldn't I utilize their strengths? Gu is crazy at sound design which is not really Ryan or I's thing. Shanti is an expert at how to make things properly bang in the club. Loraine is…iconically Loraine. Dan is the hardware king and owns all the best synths. Joe's drums and perc are freaky as hell. You know?
Are there any special anecdotes behind the tracks that you could share with us?
The demo for 'Sophie' was written after Ryan and I went to go see SOPHIE play for the first time in Toronto. She was having a very tough time on that tour, bless her, and showed up an hour late. Then about 15 minutes into her set she walked off the stage and never came back. We were so disappointed that we went home and made our own imaginary version of what she would have played, so that we could feel like we were still at the show with her. 
When you're between projects what helps keep you inspired?
Digging for new music and going to shows, trying to actively participate in the community.
What do you hope people take away from 'Rough Night'?
I mean I selfishly hope the record reflects a sense of timelessness, something that can be revisited. But mostly that pop music doesn't have to feel like a guilty pleasure. It can be nuanced and dynamic and fun for the sake of being fun.
What is your current obsession?
The new Junior Boys album.
'Rough Night' by Eden Samara is out now via Local Action – buy here.