A true veteran of the UK's techno and rave scene, Neil Landstrumm first made his mark in the industry in 1995 with releases such as 'Brown By August', 'M. Cap' and 'Index Man', all on Peacefrog Records. Becoming an accidental poster boy for the scene at the time, Neil is one of the few artists who has managed to steer clear of being pigeon-holed and appreciated for his contribution to techno, rave and dubstep alike. After becoming bored of techno in 2007, Neil had already immersed himself into the world of dubstep during its peak which, lead to the album 'Restaurant of Assassins' where he combines his love for the early 90s rave music and dubstep – creating one of his best pieces of work. However, it's hard to say what exactly is the best after being in the game for 20 years and released across the likes of Tresor, Planet Mu, Sneaker Social Club, Unknown to the Unknown and Sativae Recordings. It's no wonder that Neil has earned the reputation as one of the true innovators in electronic music, as he transcends with each genre, creating timeless releases that will be discovered and loved for years to come. And next Saturday, Neil will be gracing The Cause, London for a raucous live set to celebrate Killekill's 10th birthday in collaboration with new London party Unbound. Ahead of the date we caught up with Neil to discuss 'Restaurant of Assassins', the creative boundary of live sets, what he thinks of the landscape of the UK's nightlife and how he would like to make use of his creative platform next.
You're completely self-taught in both graphic design and music production – with that must come incredible patience and discipline. Would you say these are two of your strongest attributes? Or were these things that felt quite natural and easy for you, almost like this is what you were born to do as such? 
I've more or less left graphics and motion graphics behind now to fully concentrate on my record production work but I still have a keen eye for image and art, I think. I channel that into the conceptual ideas for the image of the records and the middle labels. I burned out on working on commercial graphics projects and got pretty sick of it to be honest. Being an independent artist and being owned by no-one is more where I would like to be at the moment; despite all the problems, I stand on my own two feet creatively and financially.  I think that being 'creative' is more just a mind-set which you point towards something – it's just that I choose to channel it towards music most of the time.
Have you ever incorporated your 3D work into your performances in order to create an A/V experience? If not, is this something you'd consider working on in the future? 
I've been involved in making on-air promos for MTV and Rockstar Games around 2000 in which i used 3D layers but not much since then. For me, 3D got a bit played out and became pretty cliché although, like anything, that all came around again. Having some sort of visual would greatly enhance a live show but it's hard to get the budget for that type of thing for the gigs I get and is something that's more suited to festivals or bigger events. That being said, a recent gig at the Hidden Door festival at the Leith Theatre in Edinburgh had some astoundingly good lasers which really made for a unique and stylish visual experience in the space and really worked with the music.
Your releases over the years have spanned across so many different genres and it's so easy for artists to become pigeon-holed to one thing, did you feel that happen to you when you first started? How did you manage to overcome it? 
Well, for a lot of people they have never managed to get past what I released on Peacefrog records in 1995-1996! That's been endlessly frustrating but also completely charming for these records to be held in such high esteem by many. I have always just seen periods on labels such as Peacefrog, Tresor and Planet Mu for example as chapters of the book which start and end then you move on. I don't like repeating myself over and over with records so I tend to cast off projects and styles quite quickly. It's more boredom I think and frustration at hearing pretty weak records and styles which are popular in the techno scene. It's pretty poor right now in many ways I think with all the PR-led popularity over actual music creation talent but there are always pockets of resistance and change which warms the heart and soul of us old veterans of the original ecstasy wars in the 1990s.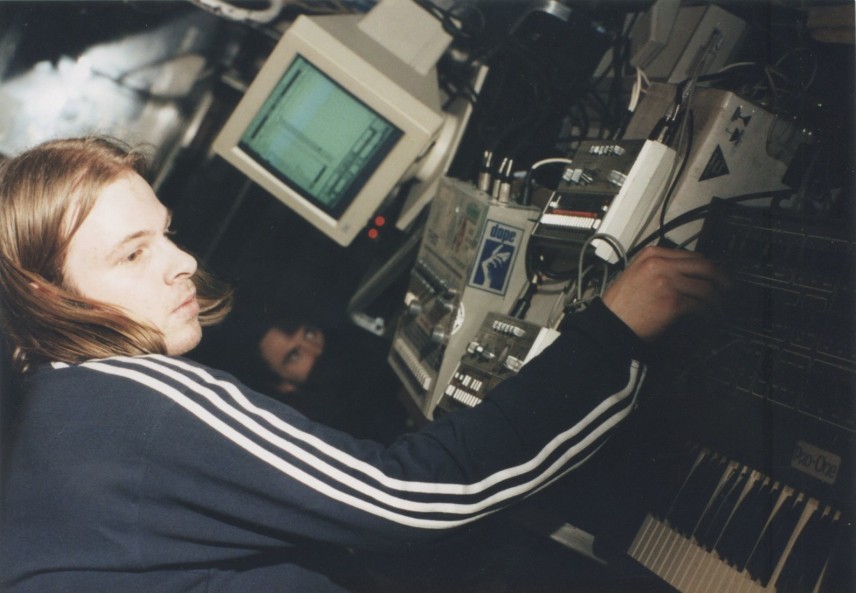 In 2007 you released 'Restaurant of Assassins' on Planet Mu which was very much influenced by the flourishing dubstep scene at the time. Do you feel that you'll ever explore that genre again? There seems to be a revival at the moment when an influx of DJs are playing it in their sets, as well as UK sounds as a whole including UKG, feeling reminiscent of the early 2000s. 
Yeh, when dark garage, sublo, 8 bar. grime etc first appeared in the early 2000s it really pricked up my ears after techno had become super linear and frankly super boring.  The heavy bass, space, atmospheric bleeps and tones echoed the northern Bass and Bleep sound of the early 90s post acid-house era which I had already been through as a teenager. I wanted to fuse it with the classic UK rave sound of 1990-91 and create my own wee version of what dubstep meant to me so I came up with 'Restaurant of Assassins' and developed further with 'Lord for £39'. I still really like that album as it was great fun making it and I was effectively reliving my gateway days of transformation within UK rave culture. Yeh I also love a bit of UKG and have been incorporating that into my live sets also for a few years as again it's fun, party music and has a lot of similarities with the bassline culture I loved from the classic UK rave days of 90-91. I still enjoy the half-step feel of tracks but perhaps channel it towards something less dubby and more towards science fiction / chicago style fusions of these faster rhythms.
Speaking of albums – with there being more music released than ever at the moment, have you recently found yourself enjoying an LP from beginning to end and also being able to spend time with that one album? 
I recently drove to the Sahara and back from Scotland and absolutely filled an mp3 player with loads of LPs new and old to enjoy on the drive. Yeh, I do still appreciate and enjoy the LP format but can see its weaknesses and problems in 2018. It's really difficult to get labels to commit to LPs any more in my experience which is perfectly understandable considering the financial outlay involved in production. An LP today has to be really excellent and stand out genius and that is where labels like Planet Mu still excel and succeed with the format.
Moving into live performances, do you often go into a set with a plan in mind or do you leave a lot of room for improvisation?
It's a bit like DJ-ing in the sense that I have lots of options and directions of flow but its always fixed at some points, it just depends how i get there or what breaks along the way. I always add new material to a live set which pushes out some older stuff out the other side. It's a slowly changing beast but when i get it into a shape that seems to work in clubs I leave it alone for a while and enjoy it as-is for a time anyway. If it doesn't have new elements it's less exciting for me to play as I'm always curious how a new production or synth pattern will sound over a sound system. I'm always trying to improve on the dark-art of music production, sound textures and power.
Do you feel that playing live gives you more creative freedom than DJ sets? 
My thinking on it is that it's more representative of my sound, style and ideas.  I never really enjoyed DJ-ing although i did plenty of it up till about 2001. I just found it stressful. However, these days using USB sticks and tempo locked CDJs it seems a lot easier to not make an arse of yourself. I hold certain selectors in very high regard but find that I remain pretty unconvinced by many DJs (i.e. the majority). To be honest, I have more respect for the producers and music makers out there.
You'll be playing at The Cause next weekend which is one of the many new venues that have cropped up in London over the last few months. Most people say that the scene here is struggling, as an artist do you feel that is true when you play in the city?
London is very expensive and is being killed with ever increasing amounts of wealthy people coming in with their associated 'needs and bullshit tastes' so it's no surprise that anything creative, artistic or interesting is being  pushed out or killed sadly. That being said, I can't say I've noticed any lack of rave and party spirit though from my last few visits. London is always fun.
How have you seen the UK's music scene as a whole develop over the years? Do you feel optimistic about where it's going?
I deeply resent the corporate take over of much of acid-house / dance music culture and the toxic laddish culture that seems to  go along with it. Talent doesn't appear to come into it much at the moment with 'business techno' where buying PR and social media presence is the thing to do to get gigs and succeed. The actual music doesn't actually seem to come into it much at certain levels of the industry. It's certainly not DIY and underground in any respect, the values of which have been hi-jacked and usurped. This article on the Boy's Own Fanzine website absolutely nailed 'how it is' in 2018.
The Cause party is part of Killekill's 10th birthday celebrations, what does the label mean to you? 
A breath of fresh air in Berlin.
Is there anything else you'd like to explore as a creative? 
Yeh, how to create a fairer society and clean energy for all and how to get rid of the Tory scum forever.
Buy tickets for Killekill x Unbound here