Welcome to our Book Club series. Reading has always been a part of my life, for as long as I can remember, and I've always had a curiosity into what other people were reading, often questioning my family members about the books they had on their shelves or at the pool. Over the last few years, I've reconnected with that joy and it has become a constant with my friends, sharing our recent favourite reads, what we've taken away from them and what we are excited about exploring next. Bringing those conversations to 909, our Book Club series will delve deeper into other creative's reading history from what they enjoyed when they were growing up, their most impactful read, quotes and more. In order to extend this community of readers, there is a bonus question for those who answer where they recommend a book(s) to next person who contributes to the club.
For the fourth edition in our Book Club series we have one of our favourite journalist's Katie Thomas and someone I chat to quite frequently about book recommendations/what we have been reading so it kind of feels like we're bringing our Instagram DMs to the site. Currently a freelance staff writer at Resident Advisor, Katie also has bylines across The Face Magazine, Mixmag, DAZED, Crack Magazine, Dummy Mag and more. Some of my favourite pieces from Katie include 2021 Reflections: Dancing My Way Through Grief, Breaking Through: Parris, This is The End, the club that changed London and HAAi's cover story for Mixmag.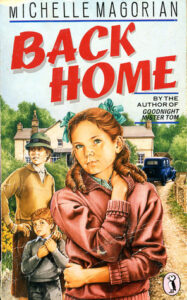 Your favourite childhood book? 
Back Home by Michelle Magorian
Back Home tells the story of Rusty, who is evacuated to the states from her home in England during the Second World War. Post-war England seems boring, stuffy and greyscale when Rusty returns, and the book is about her struggle to fit back into her home and family after years away. I read this book over and over again until it was falling apart—I think I had to buy another copy to replace it. The thing that has stuck with me all these years is Michelle Magorian's use of colour – Rusty finds joy in painting, and I can still picture so vividly the scenes of her painting and stencilling, with paints her American family send over in a trunk full of her stateside treasures.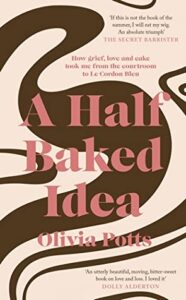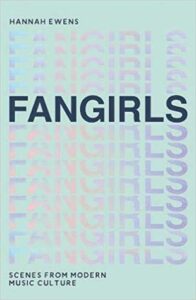 Most impactful/influential book you've read? 
I couldn't choose so I've got two for this question.
The first is A Half Baked Idea by Olivia Potts. Olivia practiced as a criminal barrister before leaving her job to study patisserie at Le Cordon Bleu—a brave move she made after her mother died. She's now a super successful cook and writer. My mum died in 2020, and this book was gifted to me by one of my very best friends, who also lost her mum a few years ago. I saw myself and my grief and even my mum many times in the pages of A Half Baked Idea, and it really comforted me to read something so relatable. It's also reaffirmed to me that I should continue to make life choices that make me happy, because being happy is the most important thing. So thank you Olivia Potts, and thank you Gen.
The second is Fangirls: Scenes from Modern Music Culture by the wonderful Hannah Ewens. Being a woman is great, being a fan is great, the power of women loving music together is formidable. If you ever queued outside a venue for hours in the cold, lost your voice from screaming the lyrics or followed your favourite band around the country—Fangirls is essential, joyful reading.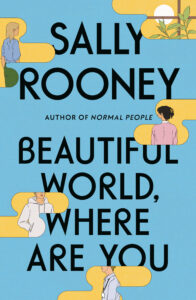 A quote that has stuck with you?
This is a recent one from Sally Rooney's book Beautiful World, Where Are You:
"If he's nice to you I will approve of him unconditionally, and if he's not then I'll be his enemy forever. Does that sound reasonable?"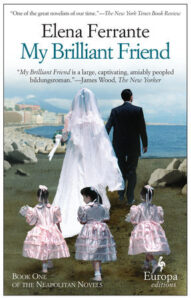 Favourite writer? 
I'm going to go for Elena Ferrante. The Neopolitan Novels are incredible and I love the way she depicts the turbulent ups and downs of female friendship.
Favourite genre? 
Probably non-fiction books about music, realist literature and romance!
My friend shared a tweet with me recently directed at my taste in films and books and I love how it's reframed what I previously would have probably described as "trashy." It said: "can't stop thinking about how women are ridiculed for enjoying romance novels and movies (where actual good things happen to women) and are told that they should enjoy other genres (where women are often not mentioned or killed to serve as a plot device for the male lead)."
Additional shout out to Jilly Cooper, Fiona Walker and all the "horny heroines." Sexy books are great!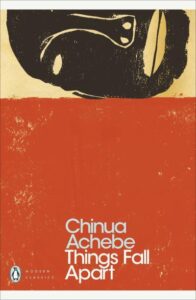 A book that you recommend everyone should read in their lifetime? 
Things Fall Apart by Chinua Achebe. I remember my headmistress at school had this book on her list of recommended reading. I rarely did the required reading at school let alone additional recommended bits (education really sucked the joy out of reading for me for a while) so I have no idea why I decided I had to read Things Fall Apart, but I soon learned it's a literature staple so I was right to seek it out. Things Fall Apart deals with the human and cultural cost resulting from the European colonisation of Nigeria and was one of the first novels by an African author (Chinua Achebe was Nigerian) to be globally recognised.
Your favourite setting to read in?  
On the beach in Aberdaron in North Wales. I've been going on holiday to Aberdaron all my life and it's where I would devour Harry Potter every summer the second the next book was released. My perfect reading spot involves the sound of the waves and my toes in the sand.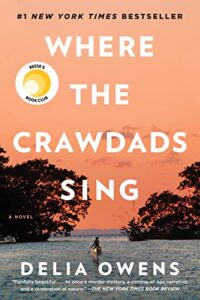 Are you someone who shares books with friends? If so, which book have you shared recently?
Yes! My school friends and I are always sharing book recommendations with each other. A recent (ish) one being Delia Owens' Where the Crawdads Sing. It's such a beautiful book that describes nature in a very magical way. It has some twists and turns in it too, I couldn't put it down.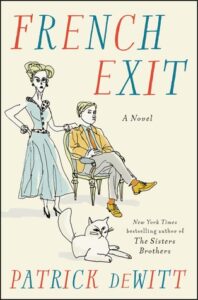 What are you currently reading?
Right now I'm reading French Exit by Patrick deWitt. It's a silly story about a Manhattan socialite called Frances, her son and their cat, Small Frank, who they believe is Frances's late husband reincarnate. A very eccentric and dysfunctional tale and an easy read, which is always welcome.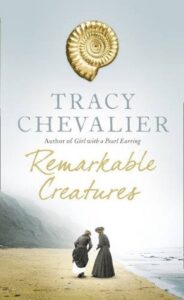 A recommendation for the next Book Club contributor to read?
Remarkable Creatures by Tracy Chevalier; the (true, reimagined) story of fossil hunter Mary Anning. Mary Anning made some incredible scientific discoveries that, at the time, many men claimed as their own. She discovered the first ichthyosaur fossil when she was only 12! A very interesting life story very well told.
I've also included this New Yorker article (slightly bending the rules here) which I always go back to by Kathryn Schulz. It's titled The Stack and it's about the giant stack of books that lived next to Schulz's late father's bed. It's such a lovely piece about her father and the enduring loveliness of books, and I hope we all have our own version of the Stack to add to as the years go by.